Monica Opens Up About Breaking Into Country Music With New Album 'Open Roads'
The Grammy Award-winning artist hopes to one-day collab with Dolly Parton and Mickey Guyton.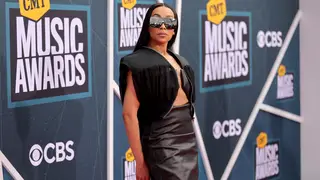 Grammy Award-winning singer Monica has transitioned into a new era in of her music career as she prepares for her upcoming album release in the genre of country music.
The 41-year-old will debut her ninth studio album Open Roads very soon with features from Lil Baby, Ty Dolla $ign, and more.
While veering into a new genre comes to a shock to the artists fans, for Monica she shared with Entertainment Tonight that she has been a fan of country music dating back to her childhood when she would take trips to Dolly Parton's Dollywood thanks to her stepfather.
"My Dolly Parton obsession began — and it hasn't ended — and what it was, was that my love for family is really my connection to her," she shares. "I was in her park at about 10 years old and the lady working told me, 'Well, I'm Dolly's first cousin and she gives us a job, a car and an apartment, it's amazing.' So when I met her and I realized all of these people are related to her and she built all of this, it really help her family and her community, that's when my love for her began in country music."
When it comes to the message Open Roads is trying to say, Monica says that is multilayered and relatable.
"We've all experienced so much over the last couple of years and this album is really indicative of the struggle of it, the love of it, the triumph of it, because you know I don't believe in being the victim. I'm the victor."
Adding, "There's someone out there listening that's been in the exact place that I have."
"When you hear this album, that's what it embodies."
Earlier this year at the CMT Music Awards, Monica performed her song "Pray" with Jimmie Allen and Little Big Town.
Her upcoming single "Friends" featuring Ty Dolla $ign releases Friday (July 15).