An Instagram Influencer Accused An Office Depot Of Racially Profiling Her Son
After purchasing printers at two Office Depots, Cassandra Wilcox said her son Anarrion Wilcox was discriminated against by an employee and harassed by local police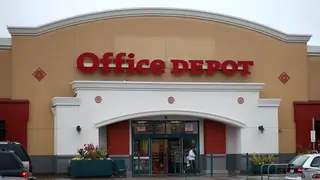 A popular Instagram personality has accused an Office Depot in Marietta of racially profiling her 21-year-old son, Fox 5 Atlanta reports.
Cassandra Wilcox, whose social media handle is Crafting with Cassandra, says on Sept. 13, her son Anarrion Wilcox went into the store in Atlanta to pick up craft sublimation printers that she previously ordered for an upcoming class she was teaching.
While there was no issue at the Atlanta store, when they arrived at the Marietta location to pick up the rest of the printers, Wilcox said that an employee called 911 and reported that Anarrion stole printers from both stores.
When law enforcement arrived at the store, Anarrion showed the officers receipts for the purchase. But they continued to "harass him" and "question him" about why he would need so many printers. Eventually, he was let go by the police.
Harry Daniels, Cassandra Wilcox's attorney, argued that the incident took place because of racism.
"This wasn't some simple mistake or miscommunication," Daniels said in a statement. "Office Depot knew he wasn't some kind of criminal. He'd paid for the printers himself. He had the receipts. But all they saw was a young Black man in a hoodie."
Office Depot vehemently denied that the employee discriminated against  Anarrion and added that they've attempted to contact the Wilcox family several times since the incident.
"Office Depot does not practice or condone racial profiling in any way. Based on Office Depot's initial investigation into this incident, no racial profiling took place," the statement read.. "We look forward to the opportunity to meet with this customer and his mother in the near future."