The Family Of A Black Student Is Suing Officials In Texas For Hair Discrimination
Darryl George, 17, has been serving an in-school suspension at Barbers Hill High School in Mont Belvieu because school officials said that his dreadlocks violate the district's dress code.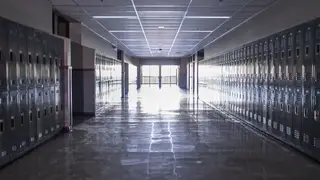 A Texas family has filed a federal civil rights lawsuit against the state's governor and attorney general claiming that they failed to enforce a new law that outlaws discrimination based on hairstyles after their Black high school student was suspended over his dreadlocks, CBS News reports.
Since August 31, Darryl George, 17, has been serving an in-school suspension at Barbers Hill High School in Mont Belvieu, because school officials said that his dreadlocks fell below his eyebrows and ear lobes —  which violates the dress code of the district.
In response to the suspension, Darresha George, George's mother along with the family's lawyer said that Darryl's hair is neatly tied in twisted dreadlocks on top of his head Also, the suspension violates the CROWN Act, a state law that took effect Sept. 1.
According to the lawsuit,  the plaintiffs alleged that Gov. Greg Abbott and Attorney General Ken Paxton, in their official duties, "have failed to protect George's constitutional rights against discrimination and violations of his freedom of speech and expression" and that George "should be permitted to wear his hair in the manner in which he wears it ... because the so-called neutral grooming policy has no close association with learning or safety and when applied, disproportionately impacts Black males."
The lawsuit also states that Darryl George is forced to sit on a stool for eight hours and that the school has denied the hot free lunch he's qualified to receive.
Since the suspension of her son, Darresha George has been suffering from panic and anxiety attacks. As a result of her condition, she has been hospitalized on several occasions.
Candice Matthews, national minister of politics for the New Black Panther Nation and a spokesperson for George's family, accused the school of racism in a statement.
"Time to bring the fight to Barbers Hill ISD. We're going to drop the hammer of accountability in the face of racism," Matthews said.
On Wednesday (September 20) the school district filed a lawsuit in state court requesting clarification be made on "whether its dress code restrictions limiting student hair length for boys violates the CROWN Act."
Greg Poole, Superintendent of the Barbers Hill school district, claims that the dress code is legal and that it "teaches students to conform as a sacrifice benefiting everyone."
As the district awaits the ruling on the lawsuit,  it said it would not enhance the current punishment against Darryl George.
The CROWN Act, which stands for "Create a Respectful and Open World for Natural Hair," was established to prohibit race-based hair discrimination and bars employers and schools from penalizing people because of hair texture or protective hairstyles, including Afros, braids, dreadlocks, twists or Bantu knots. Texas is one of 24 states that have enacted a version of the act.
In March 2022, the U.S. House passed the CROWN Act but did not receive enough votes to pass in the Senate. Texas joined 24 other states in statewide recognition of the act.
State Rep. Rhetta Bowers, who sponsored the Texas version of the CROWN Act, noted in a statement on Friday (September 22) that George's hairstyle falls under the protection of the new law and urged the Barbers Hill school district to end his suspension immediately.
"The Texas CROWN Act was passed to prevent situations like this, and it is very disappointing to see Barbers Hill ISD attempt to find loopholes to skirt the law and perpetuate hair discrimination," Bowers said.