Amanda Gorman Gives First Interview Since Her Book Was Restricted By A Florida School On "CBS Mornings"
"Just because a book is still technically in circulation doesn't mean that the access to that book has been preserved," Gorman said in the interview.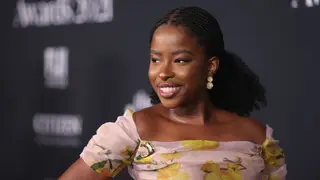 For the first time since her book and poem was placed on a restricted list in the state of Florida, Amanda Gorman is opening up about the scrutiny that her writings " have garnered.
"There's a huge loophole that exists where we expect if a book isn't burned behind the school and thrown away, that's not a ban ... I think we have to broaden our understanding of the restriction and removal that's going on," said Gorman, who read her famous poem at the inauguration of President Biden in 2021..
"Just because a book is still technically in circulation doesn't mean that the access to that book has been preserved," she added. "If anything, we're seeing a lot of rolling back of that access."
After the book ban, Gorman said she experienced "a mix of shock and sadness."
"I couldn't understand a reason for rendering this piece as inappropriate for elementary school students ... When I wrote 'The Hill We Climb,' it was so important for me that young people would see themselves represented in a significant moment in our democratic history, and that the reality of that, in that moment, would be erased for young people who deserve to see themselves at a place and station like that, that was just really disappointing," Gorman continued.
Gorman also said that many of the books that were targeted were works that featured LGBTQ+ themes or discussed topics about race in America.
"I have to think about what messaging that sends to young readers. It's as if you're saying, 'you are inappropriate if you're African American. You are inappropriate if you are gay. You are inappropriate if you are an immigrant,'" Gorman said. "And there's this huge argument that it's about protecting and sheltering our children from ideas that are just too advanced for them, but when you look at the majority of the books that have actually been banned, it's more about creating a bookshelf that doesn't represent the diverse facets of America."
"I'm not an expert," she said. "I'm not a reader. I'm not a book person. I'm a mom involved in my children's education."
Salinas argued that Gorman's book did not coincide with the curriculum.
Eventually, a school panel decided that Gorman's poem and three other books were better suited for middle-school students.
According to a report from PEN America, over 1,600 titles were banned from school libraries in the 2021-2022 school year impacting 138 school districts in 32 states. Along with Florida, Texas has led efforts to overhaul what books will be housed in their public schools. Critics of the bans claim that the bans seek to whitewash the truth of systematic racism in America.
To address the book restriction, Gorman has partnered with Pen America which "advocates for free expression and defends writers around the world" to have her book and others that have been banned placed back in circulation.