Florida School Limits Access To Poem By Black Poet Read At Biden Inauguration
After a parental complaint, Amanda Gorman's 'The Hill We Climb' was placed on a restricted list.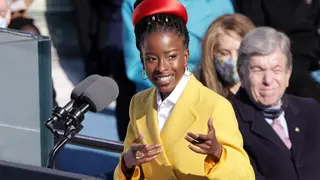 Daily Salinas, a parent of two students at The Bob Graham Education Center in Miami-Dade County argued that Amanda Gorman's "The Hill We Climb" was not age appropriate. The school covers grades kindergarten through eight.
Salinas also stated that The ABCs of Black History, Cuban Kids, Countries in the News Cuba, and Love to Langston all referenced Critical Race Theory (CRT)., gender ideology, indoctrination, and socialism. She has requested that the books be removed from the school.
In an interview with the Miami Herald, Salinas said, "I don't see how these books support the curriculum."
She also said that she "is not for eliminating or censoring any books."
Stephana Ferrell, the director of research and insight at Florida Freedom to Read Project, pointed to a new trend that seeks to reconsider what is considered age-appropriate for students "especially regarding books that address ethnicities, marginalized communities, racism or our history of racism."
"Books written for students grades K-5 are being pushed to middle school [libraries and] out of reach for the students they were intended for," Ferrell explained. "The books aren't being banned from the district, she argued, "but they're banned for the students they were intended for."
The Miami-Dade school district said no literature has been banned in a statement.
"It was determined at the school that 'The Hill We Climb' is better suited for middle school students and it was shelved in the middle school section of the media center. The book remains available in the media center," the statement said.
The attempt to ban Gorman's poem is just the latest attempt to ban books in Florida. According to PEN America, at least 175 books have been banned which caused the nonprofit to file a lawsuit against a school district over the book bans.
"The government should not foster censorship by proxy, allowing one person to decide what ideas are out of bounds for all," Nadine Farid Johnson, counsel and managing director of PEN America Washington said in a statement.
He went on to describe the study of the history of systematic racism as "indoctrination that runs afoul of our standards."