Zatima S2E2: Zac's Childhood Trauma Makes a Triggering Return
Zac is forced to reconcile with unresolved trauma when his mother pops up and starts asking for money.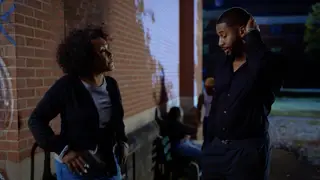 Episode 202 picks back up from last week's cliffhanger where Fatima tells Zac she wants him to have a side chick because she can't keep up with his high sex drive. But, it's not what we think. Basically, she went to the sex shop and got him a toy called "side chick p--sy." In other words, it's a fake vagina that's supposed to resemble the same thing.
Zac gives it and Fatima the blank stare that you imagine he would and questions her about why she used to be into his high sex drive when they first got together, but now it's a problem. Fatima said she didn't say anything because she hoped it would eventually calm down. Welp, now we're here. It hasn't calmed down and they need to find a middle ground. Fatima assures him that she still loves him, but something must give.
He seems to reluctantly kind of consider her proposal to use the toy, but then the conversation shifts to Zac preparing to see his mother that evening. He's not excited about seeing her due to some trauma he experienced growing up. Fatima offers to go with him for support, and he says absolutely not because he's not ready for the potential explosion of his mom and Fatima meeting for the first time. Meanwhile, it also comes out that Zac hasn't even met Fatima's parents yet because she hasn't even mentioned him. She alludes to the fact that her parents are conservative and would probably hate the idea of them living together before marriage. Basically, the clash of the parents vs Zatima is coming.
Moving on, we now find Zac visiting his mom and brother in the projects. He knows they just want to use him because he's making money. It becomes very clear when his mom explains that she's getting kicked out of her apartment and asks if she can live with him in the nice new house he bought. Zac's no dummy, so he calls her out on her drug use and calls her brother out on selling drugs. They both try to deny it, but then we see someone walk up to his brother and make an exchange. This confirms Zac's suspicions that they are and forever will be shady and toxic af. It also comes out that Zac was physically abused and in and out of foster care growing up.
However, him being visibly disturbed doesn't deter his mother from claiming to need groceries. She tries to just get Zac to give him the money but Zac, ever astute, offers to drive her there. Once they get there, she first tries to go into the store alone and have him wait in the car but he follows her. Once they get inside, he gets distracted by an ex-girlfriend from back in the day. The girl is reminiscing on the good times they had and that allows mom to slip away. Zac is hurt and pissed once he realizes what happened.
When he gets home, he doesn't even go in the house, but Fatima finds him sitting in the car trying to process his emotions. He opens up to her somewhat about the trauma he experienced as a child and why this was triggering. As a matter of fact, when he was about 6, there was another incident where his mom left him alone in a gas station so that she could go down on a trucker. A mess. Fatima does the right thing by telling him he needs a therapist. He pushes back at first but eventually realizes it's the right thing to do before breaking down in tears while in Fatima's arms.