Riley Burruss Says She Shops In Her Mom's Closet, Here's Why That's An Entire Mood!
The stylish NYU student attended BravoCon with her famous mom!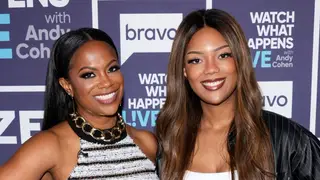 Riley Burruss loves shopping in her mom's closet–and we can't blame her!
For years, Kandi Burruss has impressed us with her love for custom designs and eye-catching designer fashions. Now, the Real Housewives Of Atlanta star's eldest daughter is ready to remix some of her mom's most iconic looks and we are totally here for it.
"Now I think that she sees me shopping in her closet, she feels a bit more pressured," Riley joked with People while attending BravoCon in New York City with her mom. "I've had to keep getting new clothes."
During the conversation, Riley also spoke about her impressive weight loss transformation. "I feel like it's a lot more shocking for people because I haven't been in the spotlight recently."
The 20-year-old continued, "So I'm not saying no one's been paying attention to me, but no one's been checking. But I've just been working, trying to figure things out. I've done it before, so it was more about getting my own goal."
We've certainly been paying attention! The NYU student has quickly become one of our favorite social media influencers thanks to her Instagram and TikTok posts that highlight her personal style, her witty personality, and her heartwarming moments with her family.