Former Miami Hurricane Football Player Sam Bruce Dead At 24
The wide receiver reportedly suffered a seizure while driving.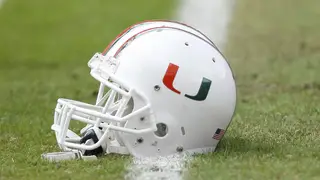 Former University of Miami Hurricanes wide receiver Sam Bruce has died. He was 24.
Bruce suffered a seizure while driving at about 8:30 p.m. on Wednesday (April 27) in Fort Lauderdale, Fla. and crashed his vehicle, local station WPTV reports. He was taken to Broward Health Medical Center where he was pronounced dead on Thursday (April 28).
"At this time, the circumstances surrounding this incident are not suspicious and foul play is not suspected," Fort Lauderdale police Detective Ali Adamson told WPTV.
Bruce, the nephew of NFL Hall of Fame receiver Isaac Bruce, was a star receiver at Fort Lauderdale's St. Thomas Aquinas High School in 2014 and 2015, helping the team win multiple state titles. He scored 21 touchdowns and accumulated more than 1,300 receiving yards in his stellar high school football career.
Bruce went on to sign with the Hurricanes and played briefly but was dismissed from the team in 2016 for "multiple violations of team rules and a failure on his part to meet the clear expectations established to be a part of the Miami football program," the South Florida Sun-Sentinel reported.
He later revealed that the list of violations included falling asleep during meetings and missing a team bus for a big game against the Florida State Seminoles, according to PEOPLE.