DMX's Fiancée Posts Emotional Father's Day Video Of Late Rapper And His Toddler Son
He sings the ABC song with his little boy Exodus.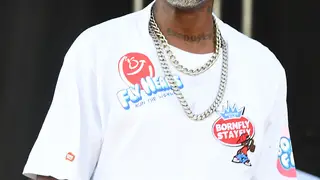 Desiree Lindstrom celebrated the memory of her fiancée DMX on Father's Day ( June 20) with a heartwarming message and video of the late rapper with their son Exodus on social media.
"SCREAMING HAPPY FATHERS DAY ALL THE WAY TO THE HEAVENS ABOVE…! Earl you were such an amazing, protective, loving, inspiring, hands on, incredible father! I thank God that @exodus_simmons1 had a father like you!" she wrote.
The video shows the father and son singing the ABCs song together.
"I appreciate every moment you had spent with Exodus… In my eyes you are the best father, a mother could of asked for when it comes to her child! Thanking God and you for all these memories of you being a wonderful father! I love and miss you so much… I know in my heart you are our guardian angel Please continue to watch over us," the message continued.
DMX, whose real name was Earl Simmons, passed away on April 9 after suffering a heart attack and being hospitalized for a week. He was 50 years old.
Exodus, born in 2016, is DMX's 15th child. He admitted to fathering his previous 14 children with nine different women and was sued for failing to adequately support his kids.
According to Page Six, a court rejected Lindstrom's petition to be declared his common law wife, which would have given her "immediate seniority over his 14 children to potentially control his estate and all future earnings from his music."