The Cast Of 'Life': Where Are They Now?
The classic film hit theaters 24 years ago.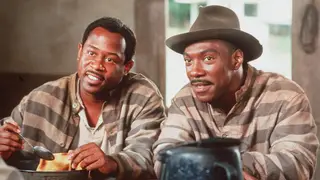 In 1999, two comedy giants, Eddie Murphy and Martin Lawrence teamed up for the hilarious movie Life. Hitting theaters on April 16, 1999, Murphy and Lawrence starred as two men wrongly convicted of murder. With an all-star cast and Murphy also serving as a producer, the film was a hit, garnering over 73 million at the box office. Twenty-four years later, we are looking back at the legendary cast. 
Eddie Murphy as Rayford "Ray" Gibson

Eddie Murphy was already a comedy legend when he played a hustler named Ray in Life. After Life, his accolades include an Oscar nomination for best supporting actor for 2006's Dreamgirls, the Shrek franchise and finally giving us the sequel to Coming to America, which dropped in 2021. Most recently, he starred in the interracial romantic comedy You People and he is currently working on the fourth installment of the Beverly Hills Cop franchise. Murphy is also a proud father of ten children. 

Martin Lawrence as Claude Banks

Martin Lawrence played Claude Banks, who was caught up in Ray's shenanigans, which landed him in a Mississippi penitentiary. Lawrence's career has continued to soar with the Bad Boys and Big Momma's House franchises.  Last year, he starred in the thriller Mindcage and he is currently in production for Bad Boys 4 with Will Smith. In another cute note, Eric Murphy, Eddie Murphy's son, and Jasmin Lawrence, Martin Lawrence's daughter, have been dating since June 2021. They are one of the most popular couples on social media. 

Anthony Anderson as Cookie

When Anthony Anderson played one of the hilarious inmates in Life, he was a star on the rise. Now, Anderson is a household name after over 60 episodes on Law and Order as Detective Kevin Richardson and eight seasons on Black-ish, which ended last year. As the dad on Black-ish, he earned eight NAACP Image Awards.

Sanaa Lathan as Daisy

Since Life, Lathan has been in countless films, including Disappearing Acts, Brown Sugar and the pandemic thriller Contagion, which had a resurgence during the COVID pandemic. In 2018, she acted in and produced  Nappily Ever After. You can currently see Lathan in The Best Man: The Final Chapters -- one of her most beloved roles as Robyn Stewart -- streaming on Peacock. 

Bokeem Woodbine as Can't-Get-Right

Bokeem Woodbine as a convict who can play baseball was hilarious in Life. The actor has never stopped working and last year he earned huge accolades for his role  in The Inspection, starring Jeremy Pope and Gabrielle Union, which followed a Black gay man who joined the military. The movie won Outstanding Independent Motion Picture at this year's NAACP Image Awards. 

Miguel A. Núñez Jr. as Biscuit

After Life, Miguel A. Núñez Jr. has never stopped working. Juwanna Mann, which dropped in 2002, is considered a cult classic and he also landed roles in Black Dynamite and ABC's (eventually moving to CMT) Nashville for six seasons . You can currently see him on BET's The Family Business.

Lisa Nicole Carson as Sylvia

After a string of memorable big-screen roles (Love Jones, Eve's Bayou, Devil in a Blue Dress), Lisa Nicole Carson played the sultry Sylvia in Life. Over the years, Carson has been open about her struggles with mental health and has worked periodically. Her last major role was in the 2017 BET miniseries The New Edition Story.

Ted Demme (Director)

Sadly, after Life, Ted Demme passed away at 38 years old of a heart attack in 2002. He only directed one more feature-length film after Life, which was 2001's Blow, starring Johnny Depp. A Decade Under the Influence, a documentary about 1970s cinema, was released in 2003. 

Heavy D (Jake)

In Life, Heavy D had the honor of burying what we thought were Lawrence and Murphy's characters.  His career continued with roles on The Tracy Morgan Show and three seasons on Boston Public. In 2011, Heavy D reunited with Murphy in Tower Heist. The same month the film opened, Heavy D died due to a pulmonary embolism caused by a blood clot in a leg. He was 44 years old.

Bernie Mac as Jangle Leg

Bernie Mac arguably stole the movie as Jangle Leg in Life. His comedic chops were evident and he soon became a household name with The Original Kings of Comedy in 2000 and the Emmy-winning Bernie Mac Show, which aired from 2001 to 2006. In 2008, Mac passed away from pneumonia at 50 years old.