Cornel West Announces Third-Party Bid For President In A Campaign Video
'I enter in the quest for truth. I enter in the quest for justice,' the professor and activist says.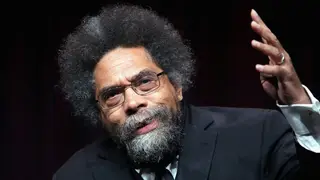 Progressive activist and scholar Cornel West announced his presidential bid Monday (June 5) as a third-party candidate with the People's Party.
"In these bleak times, I have decided to run for truth and justice which takes the form of running for president of the United States as a candidate for the People's Party," West says in a Twitter video. "I enter in the quest for truth. I enter in the quest for justice. And the presidency is just one vehicle to pursue that truth and justice that I've been trying to do all of my life."
In his announcement, West says, "neither political party wants to tell the truth about Wall Street, about Ukraine, about the Pentagon, about Big Tech." His platform of issues includes universal health care, affordable housing, combating climate change and protecting abortion rights.
West, 70, is a former professor at Yale, Princeton and Harvard. He currently teaches philosophy at Union Theological Seminary. The veteran activist was an early supporter of Independent Vermont Sen. Bernie Sanders' 2016 Democratic presidential campaign.
Former Sanders campaign staffer Nick Brana founded the People's Party in 2017 for the purpose of "building a major new progressive populist party in America." 
West is no stranger to third-party politics. He was a senior adviser to former New Jersey Sen. Bill Bradley's 2000 presidential campaign against former Vice President Al Gore. West also worked closely with the Green Party's 2000 presidential nominee Ralph Nader to seek a candidate willing to challenge President Barack Obama for the 2012 presidential election.
"Do we have what it takes? We shall see. But some of us are going to go down fighting," West leans into the camera and says in the video about his long-shot candidacy. "Go down swinging with style and a smile."
As a third-party candidate he joins a growing field of candidates. On the Democratic side, President Joe Biden is vying for a second White House term, while author Marianne Williamson attempts a second bid, and environmental lawyer and anti-vaccine activist Robert F. Kennedy Jr., has also entered the race.

On the Republican side, while former president Donald Trump is ahead in polling, others including Florida Gov. Ron DeSantis, former South Carolina governor Nikki Haley, S.C. Sen. Tim Scott and former vice president Mike Pence are all now attempting to get the GOP nomination.