Command Your Timeline With Instagram-Worthy Rap Lyrics By Beyoncé, Lizzo, Cardi B & More
The women nominated in this year's BET Hip Hop Awards gave us some of the most head b***h in charge social media captions.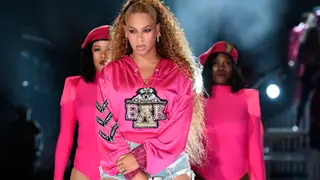 One of the most important nights in hip-hop culture, the 2019 BET Hip-Hop Awards are just around the corner. Celebrating the creme de la creme in rap music, this year we're pleased to know women have been the ones dominating the charts and airwaves.
Commanding our timelines no less, lyrics from women like Cardi B – who leads this year's nominations with an impressive 10 nods in categories like MVP of The Year and Bet Hip-Hop Video – have inarguably provided us with quality content for some of our baddest IG moments. 
Ahead of the main event, which returns to the Cobb Energy Center in Atlanta this Saturday and premieres on Tuesday (Oct. 8), we pluck top-knotch Instagrammable lyrics from songs by every female nominee, including the likes of burgeoning newcomer Megan Thee Stallion, Beyoncé (The Carters) and Ari Lennox (Dreamville).  
Peep the rundown, and slay. 
Cardi B - "Money"

Cold ass b*tch, I give broads chills
Ten different looks and my looks all kill
I kiss him in the mouth, I feel all grills
He eat it in the car, that's meals on wheels

Megan Thee Stallion - "Hot Girl Summer"

Handle me? Who gon' handle me?
Thinkin' he's a player, he's a member on the team
He put in all that work, he wanna be the MVP
I told him ain't no taming me, I love my n*ggas equally

Beyoncé (The Carters) - Ape Sh*t

Gimme my check, put some respek on my check
Or pay me in equity (pay me in equity)
Watch me reverse out of debt 

Yung Miami - "Act Up"

Hood b*tch, good p*ssy, I ain't average
Um, he can't come around without that cabbage

JT - "Take Yo Man"

Touch me, taste me, f*ck me, squeeze me
Once he do that, he'll never leave me

Lizzo - "Truth Hurts"

 I just took a DNA test, turns out I'm 100% that b*tch

Ari Lennox - "Shea Butter baby"

Wrist so blinding, heart so timeless
Wishing you could meet me, see me, freak me

Little Simz - "Venom"

I'm in the best seat, from time been a next breed
If you comin', come at me directly
Don't need no one to defend me