Ex-Cop Convicted for George Floyd Murder Moved to Medium-Security Federal Prison
Derek Chauvin was transferred from a maximum-security prison in Minnesota to a facility in Arizona.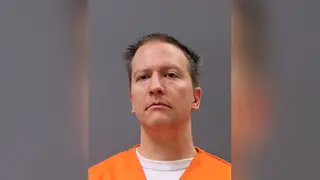 Derek Chauvin, the former Minneapolis police officer convicted in the murder of George Floyd, has been transferred from a Minnesota state prison, where he was frequently held in solitary confinement, to a medium-security federal prison in Arizona, where he may be held under less restrictive conditions.
The AP reports that the Bureau of Prisons says Chauvin was transferred Wednesday from a maximum-security prison in a Minneapolis suburb, where he often spent most of his day in a 10-by-10-foot cell, to the Federal Correctional Institution in Tucson.
"It's dangerous to be an officer in any prison," former U.S. Attorney Tom Heffelfinger said after Chauvin was sentenced last month. "It's even more dangerous in state prison because of the nature of the inmate population. There are gangs, for example. And police officers just don't do well there. Those risks are reduced in a federal prison."
A Bureau of Prisons spokesperson declined to comment on specific circumstances of Chauvin's confinement, citing privacy, safety, and security concerns.
Chauvin was sentenced to 21 years in prison last month in U.S. District Court in St. Paul after pleading guilty in an agreement with prosecutors. He was already serving 22 1/2 years in federal prison for his conviction in state court on murder and manslaughter charges; the agreement required the sentences to be served concurrently and in federal prison.
The AP points out that the U.S. District Judge Paul Magnuson suggested that the ex-cop be placed near his family, who live between Iowa and Minnesota, when sentencing Chauvin. However, federal officials aren't required to follow judicial requests.
Magnuson also presided over the cases of Chauvin's fellow officers who were on the scene when Floyd was killed. Last month Magnuson sentenced ex-Minneapolis police Officer J. Alexander Kueng to three years in prison and former Officer Tou Thao to 3 1/2 years on criminal and civil rights charges related to the Floyd killing. The fourth former officer connected to the Floyd killing, Thomas Lane, was sentenced to 2½ years in July.
According to the AP, Magnuson recommended that Lane be housed near his home in Minnesota. Lane will instead be sent to a low-security prison in Colorado, as per the Bureau of Prisons mandate.