Real People Respond To Whether Or Not Todd Tucker Should Have Been Hitting The Club Without Kandi Burruss Days After Baby Blaze Was Born
Is it okay for your significant other to party without you?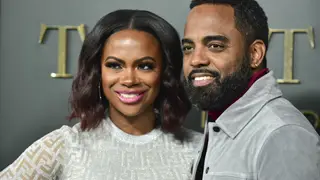 So maybe you keep up with Real Housewives of Atlanta, or just all their social media shenanigans, or both! Well, ICYMI here's a bit about the latest from the RHOA cast that involved one of the husbands on the show…
During an episode of YouTube's, Kandi & Todd, Kandi Burruss discussed parenting styles with her husband, Todd Tucker. The RHOA star winded up calling Todd out for partying too much for a new dad. The couple just welcomed a newborn daughter via surrogacy and just days later Todd was out on the town. In the episode Kandi said this in response to Todd's partying: "I feel like he was being selfish. Obviously, when it's time to do the late night hours, he just don't try to chip in whatsoever."
Their couple spat got mixed views from folks on the Internet when it comes to partying in general while in a relationship. So we decided to call on our BET family and friends to ask:
Is it ok for your significant other to party without you? And at what point would TOO much partying become an issue?
If I Feel Like A Single Parent, It's Unacceptable

"Every situationship and relationship is different. I am all about my man having a 'game night' (poker, dominos, etc.), going out to the bar, and watching Sunday night football with his friends. I am also cool with us going out together for a date night, double date, etc.. There is nothing wrong with my man partying without me (and vice versa).

BUT YOU GOT ME…if you think I am going to be taking care of a newborn baby, by myself, and you are going out every single night, that's an issue. In regards to Kandi and Todd's situation, if I feel like a single parent with no help from my partner, it's unacceptable and inappropriate."

In A Relationship You Need Time Apart

"Of course it is. You may not like some of your girl's close friends and she my not like your best friend whom you've known from junior high who you still like to go out and party with. BUT in a relationship you need time apart; time to miss the other person; time to just let your hair down with friends." —Michael Gordon, BET

We Need More Present Black Fathers

"When you have a kid with someone, you should share the responsibility. This means sharing the very grueling yet necessary task of being present when the baby cries or needs something at night. Having a kid means making sacrifices. Raising a child is a full-time job without pay or extravagant thrill, so I understand why Todd wants to hold onto his nightlife.

On the other hand, the benefits of this full-time job is being able to reap the rewards of parental teamwork and the gratifying bond built during that child-raising process. I hope Todd's night absence isn't an indication of how he will be as a father; coming and going as he pleases. We need more present Black fathers! And also just listen and be there to support your wife, Kandi!" —Alex Johnson

You Should Like To Party With Me Too

"It's cool for my partner to party by themselves, but if all of your free time is spent away from me I would start to wonder why we were together in the first place. There should always be opportunity to spend time by yourself and with your friends, but you should like to party with me too.

Now Kandi is dealing with some whole other shit. You can party by yourself, but you cannot party by yourself when I'm home alone with your DAYS OLD DAUGHTER. That man needs to act right." 

—Jelani Addams, Senior Editor at Revelation Group

I wouldn't go out partying if I just had a kid

"I believe it's healthy for your significant other to party without you. And in a broader context, my partner and I should have our own individual social circles that are separate from the social circle we have as a couple.

With that being said, you still have to prioritize and move tactfully. I wouldn't go out partying if I just had a kid, or if I just came back in from a long business trip where I didn't see my girl for a month, or if my girl is stressed out about work and would want me to lend her an ear. It sounds like Todd needs to recalibrate his moral compass." 

—Mike Allamby, NewAm Wines

on a consistent basis isn't appropriate

"I see nothing wrong in my partner having some time out with her friends without me. I do believe that too much going out and intentionally leaving your partner behind on a consistent basis isn't appropriate.

For me I'm very in tune with energy and my intuition. Things only become a problem for me if hypothetically my partner was acting sneaky or something just felt off about a situation." —Jeffrey Derose, Startup Advisory Group

Who Are You Partying With?

"I think it's ok to party without me. It's about trust and all that. Now my question would be, who are you partying with? Friends fine—but partying all night with a bunch a random dudes, or desperately needing to be out without me is a problem.

I will def get in my Drake "Hotline Bling" feelings hard if I found out my significant other was constantly out with folks I never heard of before. Todd and Kandi give open relationship vibes though, so it may be cool with for them—but when it comes to chipping in with the family--I think it should be a shared responsibility." 

—Maurice Wiggins, Communication Strategist, Profyle Inc.