Watch Michelle Obama Crush It in Hilarious Rap Video
The first lady spits bars for college education.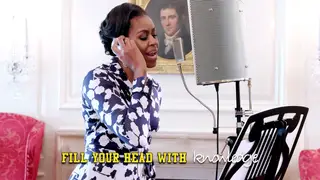 We all know First Lady Michelle Obama has skills. In her time in the White House, she's spearheaded programs aimed at supporting our military vets, keeping our kids healthy and making education available to kids around the world. But did you know she can spit bars like the best of them? Because of course she can.
Jay Pharoah, of Saturday Night Live, co-stars and lays the groundwork for Mrs. Obama's solo verse. Stepping up to a mic set up inside the White House, she raps with confidence, "Southside Chicago, we all know / We had to do overtime every night to make it tomorrow. / And everyone could really make their dream true / Hey, kid listenin' in Michigan, that could be you!"
As she raps, a vintage photo from her college graduation appears on screen to really drive it home. Then, during the chorus, she and Pharoah can be seen dancing on the White House lawn in celebration. So, the only thing left to ask is, when is that mixtape dropping?
Drake, Nicki...it's time to start putting those calls in!
To learn more about the first lady's education initiative, visit BetterMakeRoom.org.
BET.com always gives you the latest fashion and beauty trends, tips and news. We are committed to bringing you the best of Black lifestyle and celebrity culture.

(Photo: College Humor via Youtube)
(Photo: College Humor via Youtube)