Hip Hop Awards 2023: 5 Legendary Acts DJ Red Alert Co-Signed Early On
The industry veteran has helped bridge the gap between hip-hop and mainstream audiences.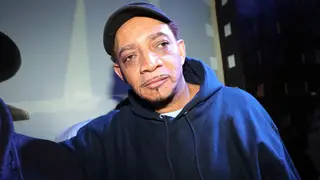 Kool DJ Red Alert, a true pioneer in hip-hop, has graced the airwaves and stages for decades, leaving an indelible mark on the genre's history. From his iconic radio shows to his DJing prowess, Red Alert has been a driving force in the evolution of hip-hop. His platform introduced hip-hop lovers to up-and-coming acts that would later become legends in their own right.
This week, we'll celebrate DJs, producers, artists, and everyone who's contributed to one of the biggest genres in the business. Ahead of the "BET Hip Hop Awards " 2023, hosted by rapper and co-executive Fat Joe, check out five iconic hip-hop artists and groups that receive an early co-sign from the DJ himself.
A Tribe Called Quest

DJ Red Alert was instrumental in promoting A Tribe Called Quest's early music, helping to establish them as one of the most influential and revered hip-hop groups of all time.

Eric B. & Rakim

The iconic duo of Eric B. & Rakim found a mentor and champion in DJ Red Alert. Their track, "Eric B. Is President," became a staple of Red Alert's sets, solidifying their place in hip-hop history.

Big Daddy Kane

Kane's distinct style and collaborations with DJ Red Alert contributed significantly to his enduring legacy in hip-hop.

Boogie Down Productions (BDP)

DJ Red Alert's connection with Boogie Down Productions and KRS-One was a pivotal factor in their rise to prominence. His airplay and promotion of their socially conscious tracks cemented their status as hip-hop pioneers.

Nas

Nas, often regarded as one of the greatest lyricists in hip-hop, received crucial early support from DJ Red Alert.

Watch the Hip Hop Awards 2023 on Tuesday, October 10, 2023, at 9 PM ET/PT on BET.