Why Texas School District Suspended Black Boy Over Dreadlocks, Despite Hair Discrimination Ban
Two dozen states have enacted a CROWN Act that bans hairstyle discrimination associated with race.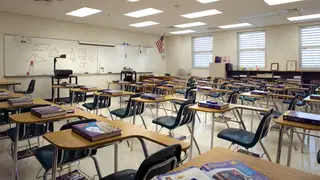 Darryl George, a 17-year-old Black high school student in Texas, and his family are fighting for his right to wear his natural hair.. Since Aug. 31, George has served in-school suspension for violating the district's hairstyle code, even though Texas recently enacted a law that bans such discrimination.
Darresha George, his mother,  told the Associated Press that school district officials told her that his dreadlocks fall below his eyebrows and ear lobes, violating the district's dress code.
Indeed, when let down, his dreadlocks hang above his shoulders. However, the teen has tied them on his head since the new school year began. Still, officials say he violates district regulations based on their reading of the new law.
African Americans have encountered natural hair discrimination in schools and workplaces for years. Recently, several states have enacted a version of the CROWN Act (Create a Respectful and Open World for Natural Hair) that ban race-based hair discrimination. Texas' law took effect on Sept. 1.
Yet, Barbers Hill Independent School District insists that its position on George's hairstyle does not violate the state's CROWN Act. The district's dress code bans male students from having hair drop below their eyebrows, ear lobes or a shirt collar. It also requires well-groomed and clean hair.
The school district's superintendent Greg Poole told the AP that his district has a stricter dress code standard than other school districts in the area and requires students to conform to those rules. "When you are asked to conform ... and give up something for the betterment of the whole, there is a psychological benefit. We need more teaching (of) sacrifice," he said.
Darresha George rejected that argument.
"My son is well-groomed, and his hair is not distracting from anyone's education. This has everything to do with the administration being prejudiced toward Black hairstyles, toward Black culture," she said.
The family's attorney, Allie Booker, told the AP that the school district's argument does violate state law because hair length is part of a hairstyle. "We are going to continue to fight, because you can't tell someone that hairstyles are protected and then be restrictive. If style is protected, then style is protected," she said.
The school district disputes that the CROWN Act covers hair length, a spokesperson told local station KTRK.
"The vaguer the law, the more challenges you can expect," Attorney Peyton Peebles told KTRK, adding that the law does not explicitly mention hair length, even though it can be implied.
"Length could be a way to discriminate against certain hairstyles without being openly discriminatory. It has the effect of preventing somebody from wearing a hairstyle that they may otherwise want to wear," Peebles stated.
George's case isn't the first time Barbers Hill finds itself at the center of a natural hair dispute. In 2020, De'Andre Arnold inspired the movement that led to Texas enacting the CROWN Act after the district ordered him to cut his long dreadlocks.