Wanda Sykes Made A Fan Laugh So Hard They Nearly Died
The legendary comedian gives a whole new meaning to "dying from laughter."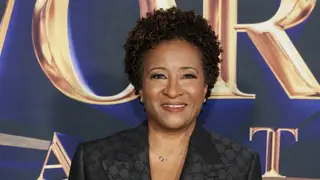 Wanda Sykes' comedy skills are so epic a fan almost laughed to death at one of her comedy shows.
During a Feb. 27 appearance on The Late Late Show with James Corden, the 58-year-old said one of the craziest moments on the stand up stage was during a recent show in Memphis, Tennessee. "The show was going well and they're yelling at me from over this side of the stage," she said. "I'm like 'What's going on?' They was like 'You need a paramedic!' "
Sykes, who currently stars in Netflix's The Upshaws, continued, "This guy, apparently he was ... They had a lot to drink. There's always alcohol involved.. And he was laughing so hard that he puked, he vomited, and then started choking on his vomit."
"Now that must've been a funny joke," said Joel McHale, who was a guest on the show. Sykes revealed a medical crew showed up and, thankfully, he recovered. Dying from laughter is not unheard of, Greek Stoic philosopher Chrysippus of Soli reportedly kicked the bucket after laughing at a donkey eating a fig. He died around 230 BC. In 1975, a 50-year-old bricklayer named Alex Mitchell in England died from laughing while he was watching television.
Watch Sykes tell the hilarious story below: