Michelle Obama's When We All Vote Adds New Lineup Of Celebs To Drive Voter Registration In 2022
See who the former first lady recruited to help fight the latest battle against voter suppression.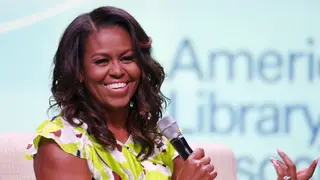 Michelle Obama's When We All Vote initiative announced on Monday (Jan. 31) that five new celebrities have joined the organization as co-chairs. The former first lady is on the leading edge of efforts to ramp up voter registration for the 2022 midterm elections, as some states continue to push voter suppression legislation.
In a video message, Mrs. Obama identified the new co-chairs: H.E.R., Becky G, Stephen Curry, Jennifer Lopez and Bretman Rock who will be joining the current list of co-chairs which include Selena Gomez, Tom Hanks, Liza Koshy, Janelle Monáe, Lin-Manuel Miranda, Chris Paul, Megan Rapinoe, Shonda Rhimes, Kerry Washington and Rita Wilson.
Co-chairs serve as cultural leaders from various industries, including entertainment, beauty, sports and media. They volunteer their voices and platforms for voter education and advocacy, as well as to drive voter registration while helping to close the race and age voting gap. "It's gonna be our generation that corrects the mistakes of our past and creates a more inclusive future that works for us all," said Janelle Monáe in an exclusive statement to BET.com. "As voters, we are the ones that hold the power to make this dream a reality."
There's a lot at stake in the 2022 midterm elections, in which Democrats face a tough battle to maintain majorities in both houses of Congress. This consequential election season approaches with congressional Democrats struggling to pass voting rights measures and several mostly Republican-led state legislatures aggressively pushing through laws to restrict voter access.
According to the Brennan Center for Justice, at least 19 states passed 34 laws that create barriers to voting between Jan. 1 and Dec. 7, 2021. During that period, more than 440 bills with voting restriction language were introduced in 49 states.
"These numbers are extraordinary: state legislatures enacted far more restrictive voting laws in 2021 than in any year since the Brennan Center began tracking voting legislation in 2011," the New York University Law School affiliated organization noted, adding that at least 13 similar bills were pre-filed for 2022.
Earlier this month, Mrs. Obama said in a letter that a coalition of voting rights organizations would register more than a million new voters and advocate for national voting rights legislation.
"In 2020, millions made their voices heard at the polls. But now, folks who oppose that progress are making it harder to vote," she tweeted.
When We All Vote plans to use creative ways to extend the reach of its celebrity co-chairs. One such initiative involves the co-chairs sending text messages to eligible voters on their 18th birthday encouraging them to register and to vote.
The organization said birthday texts were an effective tool in 2020. They achieved a response rate that was four times higher than regular voter registration texts. Fans were also 10 times more likely to register for elections.
In an upcoming co-chair event, Lin Manuel Miranda will join When We All Vote's Fight For Our Vote Rally on Feb. 1 at 8 p.m. ET to talk about the 2022 midterm elections and what's next after Congress has stalled on passing voting rights legislation.