Plies Pens Letter to America to Provide Florida with Hurricane Relief Amid $15B Aid to War Stricken Ukraine
The Grammy-nominated emcee had a stern message for US politicians.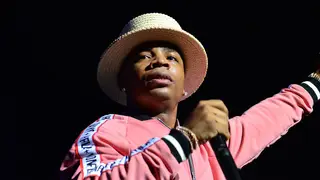 Rapper Plies used his platform recently to address the US government to get assistance for the residents in his home state of Florida after Hurricane Ian passed through, damaging everything in its path.
Earlier this week, the "Bust It Baby" emcee took to his Twitter, where he took the organization to task in a post, writing, "Dear America: If We Can Give Ukraine & Ukrainians Over $15.2 Billion To Fight A War. It's No Way In Hell Any Americans Needing Assistant After Hurricane Ian Should Go Without. U Politicians Ask Us For Our Votes Not Ukrainians!!"
Hurricane Ian made landfall on Wednesday afternoon in southwest Florida with a combination of strong winds, heavy rainfall, and storm surge ravaging various parts of the state. During a press conference on Thursday (Sept. 30), President Joe Biden announced, "This could be the deadliest hurricane in Florida's history," before adding, "The numbers are still unclear, but we're hearing early reports of what may be substantial loss of life."
In another post, the "Lose My Mind" emcee wrote, "Wanna Send My Love & Best Wishes To Everyone In Florida Hope We All Get Thru It Safe!!!! #ImInItWithU."
Earlier this month, Plies called out club owners and promoters regarding bottle service etiquette. The Instagram post notably received a cosign from upcoming 2022 Super Bowl Halftime Show performer Rihanna.
"Dear Club Promoter's & Club Owners," he wrote. "Please DO NOT Send Me Bottles With Sparkle's On It & That Big Azz Lit Up Sign With My Name On It (To My Section). That's For N*ggaz Who Just Started Getting Money!!! I Been Graduated From That!! Thanks In Advance."