Plies Defends Angela Yee Amid Gucci Mane Controversy: 'Men Clout Chasin At An All Time High'
The Florida rapper will appear on Yee's Lip Service Tour Tuesday, November 5.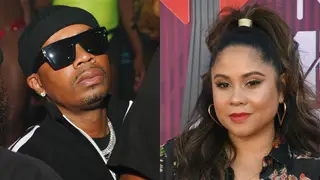 Plies has come to the defense of The Breakfast Club's Angela Yee after Gucci Mane's hostile sit-down with Charlamagne Tha God regarding his beef with her and their co-host, DJ Envy. Dropping off his thoughts via Instagram on Monday (Oct. 21), Plies had some beautiful choice words for the leading lady of the world's most dangerous morning show.
"People often ask why I admire you so much," he started off in the lengthy post's caption. "You make it hard to route against you. Your Independency, relentless work ethic and ability to maneuver thru a male-dominated industry w/o sacrificing your dignity, class, and integrity is remarkable to say the least."

Longtime dating rumors of Yee and Plies caught wind circa 2015. Without confirmation from either of the two, many fans believe Plies' hashtag on the post, "Rock" and "BossFriends," could make that speculation a little more palpable, however.

Additionally, Plies will be a guest during Yee's Lip Service Tour in November. Her podcast provides an outlet for women to have a space to express themselves and give a transparent lens for men to see how women think. The tour kicks off at the end of October starting in Charlotte. 

The support from the Florida rap artist arrives after Gucci and Yee's previous tension, stemming from her denial of Guwop's blackballing accusations. His claims against her included an alleged block of his 2016 interview with another Power 105 radio show, her supposed attempt to hook up with him, and (in cahoots with Envy) an alleged ban from The Breakfast Club show entirely.  During the 54-minute one-on-one, Gucci told Charlamagne that he meant "no disrespect" and "wasn't trying to humiliate" or "embarrass her no kind of way." 

"I was just defending myself, showing, 'Hey, if you're going to tell somebody that I'm banned from the radio station or declining, this is gettin' me to decline,'" he said. 

Yee has not yet responded to Gucci Mane's recent statements.