Cardi B Paid $1 Million For 35-Minute Performance
In a now-deleted tweet, the rapper revealed the large amount made from the "elite bankers" event.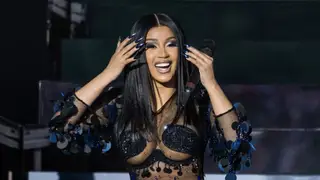 Cardi B revealed the hefty payday she received during a recent performance.
Art Basel in Miami, Florida returned for the weekend (Dec. 1 - Dec. 3) and among the various featured events was Cardi's performance for a private event set aside only for an elite group of people.
In the now-deleted tweet, the "Hot S**t" rapper said, "I got paid 1 million dollars to perform at this elite bankers event." The event was held for "400 people and only for 35 minutes. THINK ABOUT THAT WHEN YOU TYPE ABOUT THIS GRAMMY WINNER."
Cardi, 30, seemingly posted the total payout after addressing over her outfit of choice for the performance: a custom Jean Paul Gaultier, to which she added represents the purest form of a women's bodies.
Finances aside, Cardi has been dealing with the untimely passing of Takeoff. She said she feels "hopeless" trying to make her husband Offset happy following the tragedy. offset hosted and performed at Vendôme nightclub in Miami on Friday (Dec. 2), alongside Cardi. A few nights prior, he hosted at E11even nightclub in Miami, supported by Cardi again.