Records Show 6-Year-Old Boy Who Shot Teacher Said 'I Shot That B---- Dead'
The child reportedly shot Abigail Zwerner, a first-grade teacher in her classroom on January 6.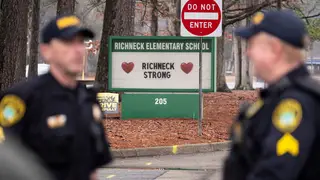 An affidavit has revealed that a 6-year-old boy accused of almost fatally shooting his first-grade teacher in Virginia boasted about the incident saying, "I shot that b**** dead," CBS News reported.
According to court records, when the boy was being restrained by Amy Kovac, a reading specialist at Richneck Elementary School in Newport News until the arrival of police, he began to boast about shooting  Abigail Zwerner 25, a first-grade teacher at the school on January 6.
"I did it," the boy reportedly said. "I got my mom's gun last night."
Kovac said that she heard from two other students that the six-year-old was armed with a gun. When she searched the boy's bag with an administrator, they didn't find a weapon. Following the incident, law enforcement officials confirmed the boy used his mother's 9mm handgun in the shooting.
Zwerner was struck in the chest, her hand, and she required four surgeries to fully recover from her wounds. She also filed a $40 million lawsuit accusing the school officials for "gross negligence for allegedly ignoring multiple warnings that the boy brought a loaded gun to school and was in a "violent mood" that day leading up to the shooting.
The incident was not the child's first at the school. A retired teacher who taught the boy at an elementary school in Newport News, accused him of walking behind her as she sat in her chair, placing his arms around her neck and pulling her down, "choking her to the point she could not breathe" in September 2021, according to CBS News. He had to be removed by a teacher's assistant who was present in the classroom.
According to court documents, the boy's records from Child Protective Services and Newport News Public Schools were not readily available.
In a statement, the Newport News School District said that it could not comment on the case because of the Family Educational Rights and Privacy Act.
"Unfortunately, FERPA, the Family Educational Rights and Privacy Act, prevents schools from releasing information from a student's education record," the district told local station WTKR. "U.S. Department of Education guidance states 'schools must have written permission from the parent or eligible student in order to release any information from a student's education record.'"
James Ellenson, an attorney representing the boy, said that the child is in therapy and has displayed signs of improvement. Spokespeople for the family claim that the boy suffers from an "acute disability."
Although the child was not charged in the shooting, Deja Taylor, his mother was indicted in April on charges of felony child neglect and misdemeanor recklessly leaving a loaded firearm as to endanger a child. Additionally, she was charged with unlawfully using a controlled substance while in possession of a firearm and making a false statement during the purchase of a firearm in June.
Tayo pleaded guilty to illegally obtaining and possessing a firearm and making a false statement on a Bureau of Alcohol, Tobacco, Firearms and Explosives form to purchase the firearm. As part of her plea deal, a state charge for recklessly handling a firearm was dropped.
"The cap for sentencing on the child neglect charge is six months," Ellenson explained.
If found guilty of all the charges, she could face 25 years in prison.