Quavo Advocates Against Gun Violence During Congressional Meeting
The Migos rapper's nephew, Takeoff, was shot and killed last November at a Texas bowling alley.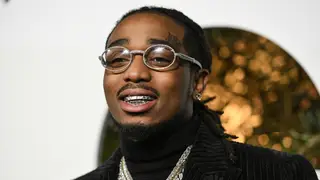 Quavo is turning trauma into action as he's spoken with Congress about how gun violence is plaguing communities all across America.
According to the Associated Press, the Migos rapper met privately with powerful Washington D.C. figures, including Vice President Kamala Harris and members of the Congressional Black Caucus, during private meetings during a legislative conference in the nation's capital on Wednesday (September 20).
The Rocket Power rapper reportedly said that his nephew Takeoff's 2022 death due to gun violence ultimately convinced him to speak up.
"I feel like your calling comes at the least expected times," said Quavo, according to the AP. "You don't think nothing is going to happen. I need to step up to the plate and hit a home run. I have to do something about it, so it won't happen to the masses – especially in our culture. I don't want this to happen to the next person. I want to knock down these percentages."
On Wednesday, Quavo joined a panel discussion alongside Democratic Sen. Raphael Warnock, Rep. Lucy McBath, and Greg Jackson of the Community Justice Action Fund. It was a solutions-oriented conversation on community intervention strategies, the battle with gun violence and the power in advocacy.
"We need to do better with the control of guns," Quavo added during the discussion. "We need to figure out how do we keep these types of incidents from happening to people going anywhere and thinking they can hurt somebody where it shouldn't happen."