Premiere: Tye Tribbett's 'The Bloody Win' Album Will Share Early Victories for Gospel Fans Everywhere
The Motown Gospel artist has something glorious up his sleeve.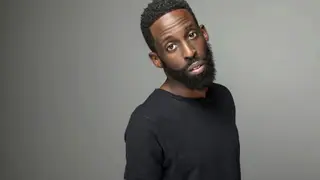 Grammy Award-winning gospel talent Tye Tribbett has a glorious gift for fans on October 13 with the release of his full-length project, The Bloody Win.
And even though the 12-track album may seem far away, the multi-gifted Motown Gospel artist's plans for its roll out won't have us waiting too long after all.
Releasing a new song every three weeks up until we approach The Bloody Win's due date, fans who pre-order the album via iTunes will have an early listen for what's in store on his sixth magnum opus. Tribbett has already graced fans with the current "Work It Out" track, but upon fans' pre-order, they'll also receive the unreleased "Already Won" single.
Fresh off of his sold-out The Bloody Win Tour, it's no wonder that the New Jersey-bred gospel crooner is ready to amplify his sound. The 12 tracks of the project go from up-tempo, praise and worship-worthy jams to the most poignant of gospel exaltation. And Tribbett is heaven-bent on raising the bar for the glory to God.
"My album The Bloody Win is conceptually about aggressive victory," he says of the project. "It's a message that now is not the time to be passive. When there's darkness in the world, you have to fight for the light."
His latest undertaking has even caught the attention of Gospel Music, Capitol Christian Music Group's president, Ken Pennell, who champions Tribbett's unique passion for his craft.
"It's not easy to capture Tye Tribbett's high-energy, passionate performance on a recording but he has done it with The Bloody Win," Pennell said. "Motown Gospel is pleased to partner with Tye to reach and expand his growing, worldwide audience."
And we're certain gospel fans worldwide will be pleased to reach their own spiritual victories with the help of Tribbett's The Bloody Win as well.
Tune in on the new lyrical visuals for "Already Won" below, the fresh follow-up to Tribbett's 2 million plus-viewed "Work It Out" lyric video.