Jada Pinkett Smith Celebrates Birthday With Fun Hair Color
Over the summer, the actor had blonde hair; now it's pink!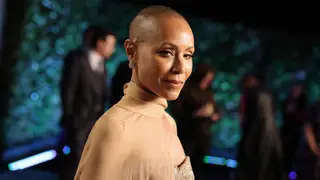 Jada Pinkett Smith knows Virgos have more fun, especially on their birthday.
To mark year 52, the actor debuted a dope new hair color for her iconic buzz cut. She shared her new pretty in pink hue to her followers on Instagram, as reported by PEOPLE.
"This ain't noth'n but a birthday sherbet surprise within a Virgo sunrise✨🎉," she wrote in the caption of the post.
In the post, she is seen wearing a black turtleneck and silver hoop earrings. She is also rocking  a set of perfectly shaped brows, light peach blush on the apples of her cheeks, and a nude gloss on her lips.
As she gently rests her hand on the temple of her forehead, she gazes at the camera lens, reminding us that Virgo season is here to stay.
"This here hair is act'n like it's try'n a make a come back. Still have some trouble spots but — we'll see✨," she wrote in the post. She also indicated that "Slide 1" is an image from the "Past," while "Slide 2" is one from the "Present."
In the first image, Pinkett Smith looks radiant! Even her brows are on fleek. The Red Table Talk show host's skin is luminous as her piercing green eyes speak life. In the selfie, she is also wearing a cozy white top.
In the following image, the photo spotlights her growing strands that have been dyed blonde.