'For Ahkeem' Review: 'A Clear Message To See People Beyond Demographics'
The doc opens in select cities today.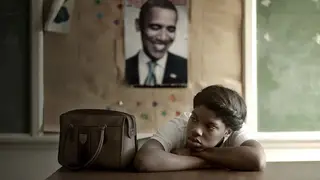 For Ahkeem follows the story of teenager Daje "Bonnie" Shelton living in North St. Louis, Missouri. The documentary is eerily perfect timing, right at the moment of the Michael Brown shooting and the rise of Black Lives Matter. In addition, Daje gives birth to a baby boy while she is struggling to get through high school. The directors, Landon Van Soest and Jeremy Levine, hit the documentary jackpot with interconnecting plot lines.
For Ahkeem humanizes the story of the teenage mother, properly presenting the nuances of race, class and gender. For the people who don't understand structural racism and classism or why Black Lives Matter is crucial, For Ahkeem is an educational tool.  The movie isn't explicitly message heavy but by telling the story of Daje without reality show-type finagling, there is a clear message to see people beyond their stats, voting demographics and segments on cable news.
The documentary is the story of millions of Black teenagers across the country. Therefore, when you hear the constant narrative of Trump voters being "ignored" and "other" communities being heard, it's laughable and implies that the people who are in For Ahkeem are somehow seen, heard or acknowledged. If rural voters felt ignored for eight years under Obama, which is ridiculous, imagine how people felt who lived in generations of poverty and racism under all the other presidents. While there are no explicit politics in the film, if you read between the frames, it's there.
From a filmmaking perspective, the movie is smoothly shot and Daje has a strong, relatable onscreen presence. However, the doc struggles with a tight ending, there is clearly more to Daje's story and the audience is left empty. This is a doc that could have been filmed for several more years, so maybe an open ending was the only choice. There is no great resolution, which might mean the emptiness is exactly what the filmmakers intended.
For Ahkeem opens in select cities today and watch an exclusive in the video above.