Offset Just Dropped A Bomb After Rumors Of Cardi B Fighting His 'Side Chick' Storms The Internet
Sources have even included photos from the night of the alleged incident.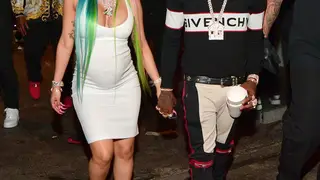 Cardi B and Offset's marriage is spinning through the rumor mill yet again and for yet another shameful reason: cheating accusations pressed against the Atlanta-bred Migos rap star.
There's no sex tape or any other tangible evidence of the infidelity buzz this time—just a gossip blog report, a response from the alleged mistress herself, a pissed off Bardi Gang, and an even more agitated Offset, who has officially responded to the madness with a few demands.
A gossip blog titled 'ShadyLipz' posted the supposed tea with photo receipts galore

In the Instagram post, two women are pictured. The woman on the left is identified as Offset's "side chick," according to the caption that reads: "Cardi and her team jumped on these girls last night @ the club because offset was f**kin the one on the left lmao."

"ShadyLipz" also posted the woman's comments section after the rumors took off, filled with Instagrammers dragging and mocking her for the alleged fight. The gossip site even went so far as to post a tweet from Cardi that's supposedly a sub shot at the woman along with a photo that the alleged side chick's sister posted with Nicki Minaj lyrics.

Another celebrity news site, 'Pop Crave,' also reported on the alleged incident

Pop Crave posted a photo of Cardi arriving at the venue where everything supposedly went down as she arrives "the scene in her Nicki Minaj inspired wig," the tweet reads. Whirling the rumor mill further, the site tweeted false allegations that Offset blocked Cardi on his social media as well, claiming that they also packed up and moved into separate homes amid the club brawl.

Of course, the internet ate all of it up…

But not so fast! says Offset

He wants his name kept out of the nonsense and demanded everyone "stop posting cap sh**" about him.

One fan, and the sister of the alleged side chick herself, seconded those sentiments…sort of

What actually happened, according to the fan, had nothing to do with the "Taste" rapper, but everything to do with Cardi's best friend Star, who worked at the Angels Club where the alleged fight went down prior to her incarceration. She posted screenshots of the woman's sister shutting down the rumors too. "B**CH NEITHER OF US ARE F**KING A MARRIED MAN THAT'S ALL LIES!!" the woman wrote. "STOP WITH THE LIES."