This Week In Good Black News: Ava DuVernay Makes History, Ari Lennox Celebrates Sobriety And Drake Shows Mad Love To His Mom
Plus, LaKeith Stanfield ties the knot.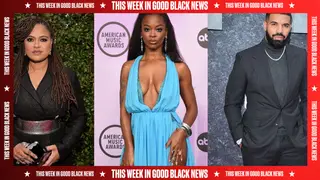 Summer is flying by, and so is the crazy news cycle. While it was impossible not to see trending stories on Hunter Biden, Ice Cube and NBA Youngboy, it's likely that you may have missed some of the good news that touched our community. Ava DuVernay made history once again, Ari Lennox is celebrating her sobriety, and Drake proves he's an unapologetic mama's boy. Here is a look back at what went down in "This Week in Good Black News."
LaKeith Stanfield Is Married!

LaKeith Stanfield and model Kasmere Trice revealed on Wednesday that they recently tied the knot and welcomed a new baby.  Stanfield told PEOPLE that he purposely kept the news private, "Being in the public eye can be something that's amazing, but it can also be something that is very hard on you. There needs to be things that exist that are sacred and not for consumption for everybody." He continued, "We want to be the ones to tell our story. We're bringing our family forward so we may inspire others." 

Stanfield has two daughters from previous relationships. The couple did not reveal when exactly they got married or when their baby was born.

Drake Shows Love To His Mom On Stage

During a July 25 concert at New York City's Madison Square Garden, Drake brought his mother, Sandi Graham, onto the stage during the second show of his It's All a Blur Tour. The two sat as Drake performed his 2011 hit song "Look What You've Done," which brought both mother and son to tears. Who's cutting onions? Not us!

Watch the sweet moment above.

SZA Scores Her Fourth No. 1 Song

SZA's latest track "Snooze" has hit No. 1 on the Billboard Hot R&B Songs chart this week, officially knocking herself off the No. 1 spot. SZA previously held the No. 1 spot last week with her other hit song, "Kill Bill." "Snooze," produced by Babyface, the Rascals and BLK, is SZA's fourth chart-topper and is currently at No. 11 on the Billboard Hot 100. Congrats and high praises to this amazingly talented singer-songwriter. Watch the video above.

Biden-Harris Administration To Forgive $130 million In Student Loan Debt

Despite a ruling from the U.S. Supreme Court, the Biden-Harris administration vows to provide a clean financial slate to thousands of students who enrolled in Colorado-based locations of CollegeAmerica. On July 25, the administration revealed it would forgive $130 million in student loans for borrowers who attended CollegeAmerica in Colorado. President Joe Biden said in a statement that 7,4000 borrowers "were lied to, ripped off, and saddled with mountains of debt."

Ava DuVernay Makes History

On July 25, it was announced that acclaimed director/producer/writer Ava DuVernay's film Origin would be an official selection at the 80th Venice International Film Festival this September. There are over 20 films in the competition, and DuVernay is the first Black woman to be selected. Origin, a film both directed and written by DuVernay, is based on Isabel Wilkerson's book Caste: The Origins of Our Discontents. The film stars Aunjanue Ellis-Taylor, Niecy Nash-Betts, and Audra McDonald.

Dwyane Johnson Donates To Striking Actors, Proving His Heart is Bigger Than His Biceps

According to CBS News, Dwayne "The Rock" Johnson has shown solidarity for his fellow actors in a big and bold way. He gave a massive donation to the SAG-AFTRA relief fund to help amid the strike, which has left actors (and striking writers) with limited income. The exact amount is unknown, but it is reportedly seven figures and the biggest donation since 1985. SAG-AFTRA representative said in a statement on Tuesday, "While the Foundation does not disclose amounts from its donors, we can reconfirm Dwayne Johnson contributed a seven-figure sum to its charitable Emergency Financial Assistance Program."

Ari Lennox Reveals She Is Seven Months Sober

Singer Ari Lennox revealed a very private achievement on social media, confirming that she is seven months sober. The 32-year-old wrote on Instagram, "7 months sober. That's a lot of sober flights. A lot of sober conversations. A lot of facing things raw and head-on. Honestly, I don't know what will happen when I reach a year sober. Don't know if sobriety is forever or not, but I can't imagine going back to how things were." 

After removing alcohol completely from her life, Fletcher said, "I feel more in control of my emotions. More stable. More happy. More alert. More safe. More accepting of things I can't control and more responsible with things I can." We hope this level of happiness continues for her. 

The National Museum Of African American History Is Celebrating Hip Hop

Everybody is getting in on celebrating the movement that is hip hop this summer. According to a recent press release, on July 31, the Smithsonian's National Museum of African American History and Culture (NMAAHC) will release a limited number of passes for its 2023 Hip-Hop Block Party. The event will take place on Saturday, Aug. 12, at the intersection of Madison Drive and 14th Street N.W. in Washington, D.C. Performers include H.E.R., Monie Love, Kid Capri and more. The event is free, but passes are required. Click here for more information.

We Remember When The World Went Purple

Thirty-nine years ago this week, the world went purple when Prince's Purple Rain was released in 1984. "Purple Rain" is arguably one of the most iconic musical films ever made, starring the legendary Prince and his band The Revolution. The story of love, struggle, and self-discovery won an Academy Award and two Grammys and made Prince a worldwide superstar.

See the original movie trailer above.