Ray J Slams News Outlet For Reporting That He's In Secret Talks With Donald Trump
The singer blasted the publication for saying he's working to pardon Suge Knight.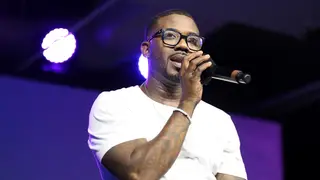 Ray J is not here for false news. The Love & Hip Hop Hollywood reality star called out Daily Mail TV on Instagram early Friday, November 8 for publishing a fake report about his "secret talks" with President Donald Trump in an effort to pardon his friend Marion 'Suge' Knight. 
The new father of one addressed Daily Mail TV on social media, with five news clips of his new business ventures.
He captioned the post, "@dailymail pls stop reporting false stories about me! This is the second time y'all trying to pull a stunt like this! The story you put up is false and corny! I've been working very hard building my companies and staying out of BS! If you wanna post a story about me pls make sure it's true."
In the first video, the 38-year-old spoke directly to the publication.
"Look, Daily Mail, I never had a problem with yall, but yall need to call my team and get stuff confirmed before you just put up any story on your site. What kind of story did yall just put up? It's false, it's not true… and it's corny. Why can't we talk about the businesses that we're involved with or pushing the narrative for Raycon Global and how we're trying to be a positive impact in the tech industry?"
On Wednesday, November 6, the news site published an article citing unknown sources alleging the "One Wish" singer attempted to meet Trump at the White House as apart of criminal justice reform. His alleged visit was to convince President Trump to pardon the disgraced Death Row Records co-founder. 
The article claimed Ray, born William Ray Norwood, Jr., was even invited by the Trump administration to fly on Air Force One to rallies in Louisiana or Texas, but the singer declined due to scheduling conflicts. 
CNN reports Knight was sentenced to 28 years for manslaughter for the January 2015 killing of Terry Carter at a fast-food drive through. The site alleges the unidentified source revealing Ray advocating for Knight, believing he learned from his past transgressions in an attempt to appeal to the Trump administration. 
As of Friday, November 8, the Daily Mail article is still live on their site. They have yet to respond to Ray's Instagram post.