Steve Harvey's New Season of Sexism
Things go weird on his talk show.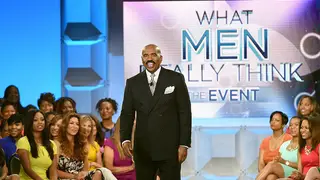 In two weeks, women who have been turning to Steve Harvey for love and relationship help will be delighted. That's because on September 8, Harvey is kicking off season 4 of his self-titled talk show with two days all about men. It will include a panel of real live men — including, inexplicably, Geraldo Rivera and Jennifer Hudson's fiancé wrestler David Otunga, although these men's sole qualification is that they have penises, as opposed to actual expert insight like a couples counselor could.
But Harvey himself has gotten far qualifying as a relationship expert on what women should do and how men will act based strictly on the genitalia he was born with. Before his best-selling books Act Like a Lady, Think Like a Man and Straight Talk, No Chaser, Harvey wasn't racking up credentials as a relationship therapist, he was racking up frequent flier miles on the stand-up circuit. Yet today he is super serious in his role — so serious that he calls himself the Chief Love Officer of his dating site Delightful.com.
As Chief Love Officer of his talk show, Harvey gathered approximately 100 women and had them sit on stage in front of an audience of 2000 men so that the ladies could hear the men tell them what they really think. Viewers can watch — and cringe — as they see what took place at the taping.
According to a story on Colorlines.com, "A woman was booed for not having sex with her husband, while various others were admonished or catcalled by the crowd on the basis of their looks. The situation got bad enough that the show's warm-up comedian stepped in to intervene, calling the situation 'too rapey.'" 
Back when Oprah had a talk show, it was never accused of getting "rapey." This probably isn't even a word that gets used at The Maury Povich Show, where few are said to be on their best behavior. So it is curious that Harvey, who preaches, writes and insists that women carry themselves with respect, let an audience of men get disrespectful enough that they were called "rapey." Did Harvey think it was funny, accurate or just good television?
Ironically, Harvey sees his role as a relationship expert as something akin to fatherhood. "Being surrounded by my incredibly strong wife and daughters has helped me to better understand my mission on this show," he said in a statement. "When I started this talk show, I thought I had four daughters, but I've realized I have four million daughters."
This may be the funniest thing Harvey has said in some time.


The opinions expressed here do not necessarily reflect those of BET Networks.


BET.com always gives you the latest fashion and beauty trends, tips and news. We are committed to bringing you the best of Black lifestyle and celebrity culture.
(Photo: Dan Boczarski/NBC)