Bun B And His Wife Reveal Terrifying Details Of Their Home Robbery On 'The Breakfast Club'
"People think I'm the hero in this situation, but she's the hero..."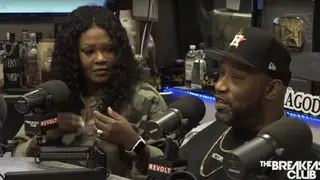 Bun B is giving his wife, Queenie, the crown when it comes to holding it down.
Last week, news broke that the UGK rapper (real name Bernard Freeman) and his wife, Angela Walls-Freeman, a.k.a. "Queenie," were involved in a home invasion-turned-shootout. During an attempt to rob the Houston couple of Queenie's parked Audi car, the armed robber, Demante Jackson, was then shot by Bun. The assailant also shot back at the Freemans before fleeing on foot, dropping his weapon in the process. 
The botched robbery later landed Jackson in a nearby hospital, where he was treated for a gunshot wound to the shoulder and arrested on two counts of aggravated robbery with a weapon and one count burglary. 
While the Freemans were fortunate enough to escape the attack unscathed, the traumatic experience still hangs over them, as evidenced in their latest interview. 
Recently Queenie and Bun B sat down with The Breakfast Club to recount the horrific event and moments leading up to the home invasion. "At the moment, it was unreal," Queenie said. "Because we had just made it home within 20 minutes. So I heard the door bell, and at that time it's usually UPS [or] Amazon.…" 

"But she never answers the door, only I answer the door," Bun B interjected. Queenie agreed before Bun B went on to finish the story with a visibly shaken Queenie, championing his wife for her heroism.

"For me, the thing that drives me crazy is that I spent my whole life— and she knows this—my whole life is built around addressing a threat," he continued. "But unfortunately, I wasn't the one that had to confront him in the moment, she was. And I'm like, so proud of her, for not only how she handled herself, but [how] her only thought was to protect me. Her assumption is that this person has come to get me. [Her thought was,] 'I need to hold this person here, so that Bun can get to the gun, and even if he kills me, I know Bun is going to kill him.' So her thing is like, 'I'll take that loss, but I know Bun will avenge me and kill this dude.' That's what she was thinking. People think I'm the hero in this situation, but she's the hero."

Breakfast Club host Charlamagne chimed in with praise, saying, "Man, God bless Black women, man. Round of applause," while host Angela Yee went on to call Queenie "a hero."

Bun B's attorney, Charles Adams, was also on hand at the interview and defended the H-town icon's decision to bear arms, while showing love to the hip-hop couple. "Bun has no criminal history," he explained. "This is Texas... You can protect your damn home, and that's what he did. This is not a true crime story, it's a true love story."

Watch the full Breakfast Club interview with Bun B and Queenie below: