Tina Turner And Her Husband Splurge On A $76 Mil Weekend Home In Switzerland
See the waterfront estate that overlooks Lake Zürich.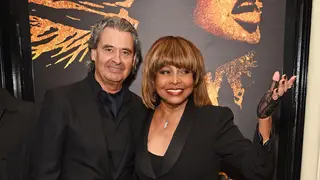 Tina Turner and her husband Erwin Bach are taking a never-ending vacation with the purchase of their new home!
In 1995, Turner moved abroad to Switzerland when Bach was transferred. During an interview with Larry King in 1997, she got candid about her decision to expatriate. "I have left America because my success was in another country, and my boyfriend was in another country," she told King.
The "What's Love Got To Do With It" singer met her longtime partner and record executive Bach perchance in an airport in Germany and spent decades together before getting married in 2013. The same year the couple was married, Turner committed to her long-term residency abroad, renouncing her U.S. citizenship.
This past September, the iconic singer and Bach purchased a lavish weekend retreat in Zurich, Switzerland, where the couple lives full time. The 10-building estate overlooking Lake Zurich cost the couple $76 million.
In an interview with local news publication Daily Handelszeitung, Bach shared that the couple chose to me after obtaining Swiss citizenship. According to Swiss law, nonresidents are unable to purchase in the country.
"[We] feel very comfortable in Switzerland," Bach said. The record executive also noted that he and the singer refrain from travel during the global pandemic.
The century-old 260,000 square foot estate features a private pond, stream, pool, and jetty to dock small boats.
A month prior to purchasing the homey estate, Turner sold her music catalog to German music company BMG for $50 million. "The protection of my life's work, my musical inheritance, is something personal," Turner said. "I am confident that with BMG and Warner Music, my work is in professional and reliable hands."
Last October, Turner was inducted into the Rock and Roll Hall Fame. While she was not present, actress Angela Bassett who played the singer in the biopic "What's Love Got To Do With It," presented the long-anticipated award.