Floyd Mayweather Criticized By Palestinian Former Boxing Champ Billy Dib After Contributing Aid To Israel
Mayweather showed his solidarity with Israel by sending a private jet filled with 5,000 pounds of supplies for Israelis.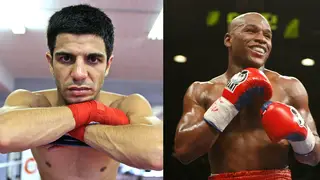 Floyd Mayweather has received harsh criticism for Billy Dib, a Palestinian former boxing champion after he came out in support of Israel, the Daily Mail reports.
Mayweather, who visited Israel in November 2022, took to Instagram to share his unwavering support for the Israeli cause.
"I stand with Israel against the Hamas terrorists," Mayweather wrote. "Hamas does not represent the people of Palestine but is a terrorist group that is attacking innocent lives! I stand for all humans and wish for the safe return of all Americans and Israelis and any human that were kidnapped as hostages during these horrific war crimes. This is not a time for politics. This is a time for safety first and foremost. God Bless America. God Bless Israel. God Bless Human Kind!"
Responding to Mayweather's stance, Dib expressed his dismay at Mayweather's perspective in a post on X formerly Twitter.
"When Muhammad Ali returned to his creator the world mourned him. He was the people's champ, we all loved him and will continue to remember him for decades to come," Dib wrote. "Floyd Mayweather on the other hand is doing anything to try and stay relevant & in the limelight. Ali is the greatest."

Dib has publicly expressed his support for Palestine and has criticized the Israeli government over its policies toward the occupied land. "75 years ago you turned up on the Palestinian shores, now you act like you own our country. Always was Palestinian land and always will be," Dib said in a message posted to X (formerly Twitter).
Over the last several weeks, the conflict between Israel and Hamas has reached a fever pitch. On Oct. 7, Hamas, who pledged to wipe out Israel, launched a surprise assault, firing thousands of rockets into Israel, The New York Times reported. Hamas soldiers moved in on 22 Israeli towns and army bases, and abducted civilians (including some Americans) and soldiers. In the surprise attack, Hamas killed at least 1,300 Israelis, including women and children, and took about 150 hostages.
In response, Israel launched numerous airstrikes. Palestinian authorities said Israel's attacks targeted mosques and hospitals. Officials in Gaza have estimated that at least 2,450 Palestinians were killed on Sunday's (Oct. 15) strike.
On Monday (October 17), President Joe Biden announced that he would be traveling to Israel to show support to one of America's longtime allies.
Secretary of State Antony Blinken said that Biden's visit "comes at a critical moment for Israel, for the region and for the world."
After visiting Israel, Biden will meet with Jordan's King Abdullah II, Egyptian President Abdel Fattah El-Sisi, and Palestinian Authority President Mahmoud Abbas.
Last Friday (October 13), Biden met with the families of missing Americans who were last seen in Israel along with the special presidential envoy for hostage affairs.
"I assured them of my personal commitment to do everything possible to return every missing American to their families," Biden said. "We're working around the clock to secure the release of Americans held by Hamas, in close cooperation with Israel and our partners around the region. We're not going to stop until we bring them home."