Steph Curry Talks About His Basketball Camp, His Gift For Golf, and the Upcoming NBA Season
The Golden State Warriors star is preparing for his 15th season in the NBA.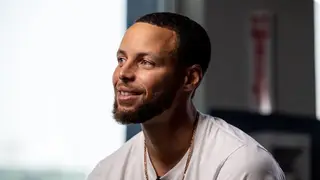 Golden State Warriors superstar Stephen Curry is called in most circles one of the greatest players of all time. Universally regarded as the greatest pure shooter in the history of the NBA, he has transformed the game with his unlimited 3-point range. In his illustrious career, Curry has won four NBA championships, two MVP Awards, becoming the first unanimous MVP in league history in 2016, has been named to 9 All-NBA teams, 9  All-Star teams, and he has made the most 3-pointers ever.
Off the court, he works with his wife Ayesha in their foundation Eat.Learn.Play which seeks to "end childhood hunger, ensuring students have access to a quality education, and providing safe places for all children to play and be active."
This offseason Curry has been busier than ever. In July, he released his Underrated on Apple TV which has received critical acclaim, he took home the top prize at the American Century Golf Tournament and convened his 8th annual Curry Camp in partnership with Under Armour which featured 13 boys and 14 girls from across the U.S. that he hand-picked.
With all that he has going on, Curry remains determined and focused on his primary goal which is to bring another NBA championship to the Bay area.
BET.com caught up with Curry at his camp and spoke about creating Curry Camp,  his love for golf, and what he is most looking forward to this upcoming NBA season.
BET.com: What was your vision when you first launched Curry Camp?
Curry: When I started the camp in 2013, it was something that was a dream of mine just because I came up in the game. First, we started by saying that when I was a high school athlete, I would not have been invited to camp as a three-star recruit. My journey was a little different journey [Laughs], but I know like the next generation these talented young men and women have a lot to offer the game and so it's my job to be a part of hopefully a small part of their journey of trying to reach their full potential and to give them a little insight on what I know, the details that I work on to try to be great at the craft.
It's evolved into a really special experience for both young men and women in the game that are coming through the ranks and so I'm excited that we just completed our eighth one. Hopefully, we'll be around for a long time.
BET: What distinguishes Curry Camp from all the other basketball camps?
Curry: I haven't been to too many other camps but I think the biggest thing is that I try to be as present as possible with the kids. Every year, I'm out there competing, running the drills, we give them a little exposure to my personal workouts and the level of detail to give them a standard to try to reach for.
Also at the camp are my skills coaches, my [Davidson Wildcats] college coach Bob McKillop and some of my teammates from years past who understand how I do things, and who bring the same energy as they have access to these kids as well. And having the camp out here in the Bay which is my home and this is where Dub Nation is so players get exposure to my neck of the woods.
BET.com: Recently, you released your documentary Underrated which has garnered rave reviews. How did it feel to share your truth in such an honest way?
Curry: When we were putting the project together, you have certain memories or a perspective and the low lights that I had even like my first college game when I had 13 turnovers. I remember that being bad but when I saw the clips for the first time it was like 100 times worse than I imagined [Laughs].
The fact that I had to work for everything that I have although I had a lot of blessings being a son of an NBA player [Dell Curry]. But my journey was entirely different than his and my brother's. Everybody sees the finished product in the age of social media with highlight culture and all that type of stuff. But there's so much that went into the unseen hours that are now being seen.  I love sharing that story to give people hope and a sense of belief that they can accomplish anything.
BET.com: In one scene, your mother Sonya Curry says something powerful. She said," It's not just about proving everyone else wrong but proving yourself right." After everything you've accomplished in your career, do you still have to prove yourself right?
Curry: For sure. The goals and the mission evolve over time. I've had a lot of amazing experiences and accomplishments in the game. I've had some failures as well. It's all part of the journey. As I prepare for my 15th year in the league, l can still get better.  Even as recent as the 2022 championship that we won, a lot of people had kind of written us off as a team that wasn't capable of accomplishing what we did. Now we're kind of in that same boat, two years later. We're not the hunted anymore. That's Denver.
Now we're in a position where we feel like we can get back to that mountaintop and we have to prove ourselves right and I have to prove myself right on that journey. So I have to give it everything I got.
BET: com: Now that Steve Kerr is coaching Team USA, has he been asking you to consider playing on the team for the 2024 Olympics?
Curry: He's got some business to take care of this summer. Coach Kerr is coaching in the World Cup for the first time so I'm rooting for him. It seems like they got a great group of guys together. Who knows? I would love to play with Team USA because that's the one thing that I've never experienced before. I've been on two World Cup gold medal teams in 2010 and 2014 but never played in the Olympics so it would be an amazing experience for sure. There's a lot of time between now and then but it's definitely on my radar.
BET.com: In addition to basketball, golf is your other favorite sport. When you hit that hole-in-one, your celebration was epic. When did you first start playing golf?
Curry: When I was around 10 or 11. So my dad got me into it when it started playing during the off-season. He took me and my brother out, and I slowly got exposed to what the game was truly about and fell in love with it. I'm a golf nerd, I watched the Golf Channel, and I love to play as much as possible.
When I first got into the league, I heard about this tournament in Lake Tahoe and where a lot of athletes, celebrities, and other people who are passionate about the game would play. I was invited in my rookie year. It became a goal to win that tournament. My 11th year playing in it and I finally won it. It's still crazy saying that because you don't know how obsessed I am with that sport.
So definitely a dream come true. I got to scratch like the competitive edge if you will. I was just telling somebody that I expect to make all my shots on the court but on the golf course, there's a little different expectation. That game is so hard to master and it humbles you real quick. So when the good things happen, I'm gonna celebrate just that.
BET: Who are some current or former NBA players that have great golf games?
Curry: Ray Allen is up there. Here's a throwback name, Vinny Del Negro. He's the only other NBA player that's won that tournament. J.R. Smith has been doing amazing things in the world of golf at North Carolina A&T and enrolling in school. I love what he's doing for the game. And you know, the three Curry boys, me, brother Seth and my dad Dell.
Bet.com: Lastly, you had social media buzzing when the visual "Little Fish, Big Pond" was released. How was it to collaborate with Tobe Nwigwe on the video?
Curry: I first began talking with Toby a couple of years ago but the first time we met in person was this past season when he came to a game in Houston. We chopped it up and of course, with his creative talent, he was able to put the visual together. "Little Fish, Big Pond" became the theme song of the Underrated documentary. Then he hit me a couple of months before we filmed and said, "We should shoot a  video for this."
I've never really been in a music video before and I never performed like that but I said, "Of course, we should do it.''The lyrics were unbelievable and he did all that. He put the vision together,  came on set and I was living my best life. I was just trying to remember the words so we didn't have to burn too much film.