This Degrading Insult Is What Triggered Blac Chyna's Stroller Meltdown
Can't say we blame her.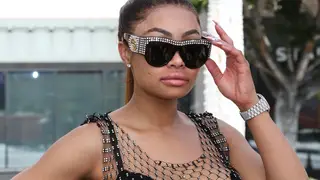 Blac Chyna's face has been plastered all over the internet, today after video footage of her violently using a stroller in a physical altercation at Six Flags went viral.
Now, after she took to Instagram to explain that her heated reaction was a result of her trying to protect her kids from a touchy-feely park patron, it is now being revealed that two words further triggered her to turn up.
According to TMZ, all hell broke loose when Chyna heard someone call her "hood rat" in the midst of the altercation.
The site reports that sources who were present at the park noticed the woman who made contact with Chyna's daughter, Dream, began shouting the insult at her after their disagreement. The woman in question then reportedly began to further provoke the former stripper, inching closer to her, which caused her entourage to intervene.
Eventually, the instigator allegedly ended up pushing one of Chyna's friends, and a fistfight ensued.
Before things got too violent, Dream and Chyna's son, King Cairo, were reportedly whisked away by their nanny.
Blac Chyna took to her Instagram Story to stress that she would go to any lengths to protect her children.