Jada Pinkett Smith Shares Old Video of Duet With Tupac of 'Parents Just Don't Understand'
She also revealed it was the last time she and the West Coast rapper were "simply kids together."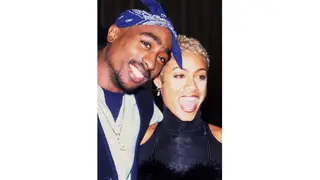 The meaning of Will Smith's "Parents Just Don't Understand" is relatable for really any generation, especially for adolescents. Whether you were a child of the late '80s and early '90s, or are part of Gen Z, the song's message is pretty time timeless.
Perhaps that's why the rapper-turned-actor's wife, Jada Pinkett Smith, recently shared a throwback clip via her social media on Wednesday (September 20) of her and the late Tupac Shakur lip-syncing to Smith's 1988 hit song.
"Not in a million years would I have dreamed that the Fresh Prince and I would become, um, very acquainted. Not in a million years did I imagine three lives, their fates, would be so intertwined," she captioned the post, in part. "And… I never would have imagined that this video would become a tangible memory, of the last time Pac and I, were simply kids together. Pac and I lip syncing Parents Just Don't Understand by Jazzy Jeff and the Fresh Prince during our Junior year in high school. Who would have thought?"
According to Billboard, the caption is an excerpt from Pinkett Smith's forthcoming memoir. In the clip, she wears a collection of gold chains, and a black top while dancing along to and lip-syncing the song along with the West Coast hip-hop legend, who also is sporting gold chains.
In a second post, Jada jokes that the pair did a "terrible job" of trying to perform the timeless hit.
Smith and DJ Jazzy Jeff released "Parents Just Don't Understand" as the second single from their 1988 LP He's the DJ, I'm the Rapper. The song peaked at No. 12 on the Billboard Hot 100 and won the inaugural Grammy for Best Rap Performance.