Naomi Osaka Shares First Glimpse of Her Baby Girl
The tennis star and her boyfriend Cordae welcomed their first child together this week.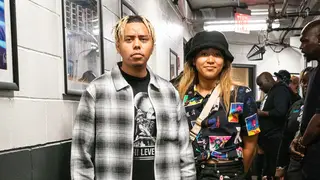 Tennis champion Naomi Osaka just shared the first glimpse of her baby girl with rapper Cordae and our hearts are melting!
The four-time Grand Slam champion posted several pictures on Instagram, with the first being a picture of the baby dressed in a tennis onesie. The newborn is wearing the Tennis Embroidered Zipper Romper from Sammy + Nat.
Other images included a partial picture of Osaka's face as she is in what appears to be a hospital bed. Another looked like a welcome home picnic.
As the caption, Osaka wrote, "Well that was a cool little intermission, now back to your regularly scheduled program 🎾✌🏾💕"
From the stage at Canada's Calgary Stampede Festival, Cordae seemed to announce the baby's name, saying, "My daughter Shai was just born a couple days ago, so I dedicate this performance to my baby girl Shai." He told the audience, "Love you, I'm going back home."
The couple hasn't confirmed the baby's name.
The proud mom broke the news she was expecting on Instagram in January. She shared a sonogram of her growing baby, along with a heartfelt message.  "I know realize that life is short and I don't take any moments from granted, everyday is a new blessing and adventure. I know that I have so much to look forward to in the future, one thing I'm looking forward to is for my kid to watch one of my matched and tell someone, "that's my mom", haha."