L.A. Riot Anniversary: The Most Important Hood Classic Films of 1992
These works of cinematic art were on a different wave during a pivotal moment in American history.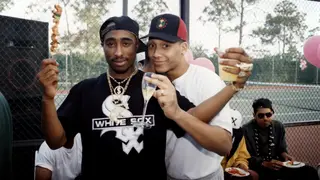 From Whitney Houston's celebrated transition from the stage to the silver screen to a quiet wave of animated films inspired by Black comedians, the evolution of Black cinema reached new, unfathomable levels.
At that time in 1992, the nation was coming face-to-face with a racial reckoning after the verdict of the said trial resulted in the police officers accused being acquitted and the Los Angeles riots (also known as the L.A. Uprising) divided the country.
As a result of this happening, narratives become more diverse, film soundtracks grew in epic scope and scale, as Black actors became critically acclaimed and bankable box office stars.
On what marks the 30th anniversary of the civil disturbances that stunned Los Angeles, BET.com has put together a list of films that undoubtedly became certified hood classics that were (and still are) the most important films of that year.
Juice

Directed By: Ernest Dickerson

Cast: Tupac Shakur, Omar Epps, Khalil Kain, Jermaine Hopkins, Samuel L. Jackson

Around America, Black teens undoubtedly found Juice to be the coolest film released that year and 30 years later, it's no secret why. On a surface level, Juice is a coming-of-age story about four friends growing up in Harlem. 

Lying at the heart of Ernest Dickerson's directorial debut is a crime drama brought to life by the lead cast, including Tupac Shakur in his first leading role. Add a Gold-selling soundtrack into the mix featuring prominent artists from Eric B. & Rakim to Aaron Hall into the mix, and Juice still manages to captivate decades later.

Class Act

Directed By: Randall Miller

Cast: Christopher "Kid" Reid, Christopher "Play" Martin, Karyn Parsons, Doug E. Doug, Thomas Mikal Ford

Kid 'n Play's third film together was a raunchy '90s teen comedy, Class Act, which was an urban adaptation of Mark Twain's The Prince and the Pauper. 

When gifted student Duncan Pinderhughes'(Christopher "Kid" Reid) records get mixed with recently released convict Michael "Blade" Brown (Christopher "Play" Martin), what happens next is sheer hilarity. 

With classic lines ("I thought you was gonna play with my frog.") to a fresh song by the 2 Hype duo, some would consider this film a hood version of Trading Places.

Deep Cover

Cast: Laurence Fishburne, Clarence Williams III, Jeff Goldblum, Clifton Powell, Glynn Turman

On its own merit, Deep Cover works as a satisfying crime thriller about DEA Agent Russell Stevens Jr. (Laurence Fishburne) going undercover to stop a drug cartel. 

Fishburne's acting follow-up role as Furious Styles in Boyz n the Hood made him a rising leading man in Hollywood and his performance in this film more than added to his résumé. 

Another impressive story about Deep Cover is the soundtrack, including its theme song by Dr. Dre, already considered a music maverick at the time, and a then-unknown Long Beach rapper named Snoop Doggy Dogg. Do your Googles and rewatch this All City-approved classic.

Bébé's Kids

Directed By: Bruce W. Smith

Cast: Faizon Love, Nell Carter, Myra J, Vanessa Bell Calloway, Toné Loc

Bébé's Kids was an adaptation of Robin Harris' story, recently recounted in Guy Torry's Phat Tuesday docuseries. Told from his perspective, Harris encounters three mischievous siblings who live by the motto, "We don't die. We multiply." 

Released shortly after the rising comic passed away, Faizon Love (Friday, Grand Theft Auto) made his debut voicing the legendary comedian. Bébé's Kids would also be a highlight for animator-turned-director Bruce W. Smith (The Proud Family: Louder and Prouder, The Princess and the Frog). 

A former writer on the TV series ThunderCats and an animator on Who Framed Roger Rabbit, Smith would go on to co-direct the Oscar-winning short Hair Love with Matthew Cherry and Everett Downing Jr. in 2020.

South Central

Directed By: Stephen Milburn Anderson

Cast: Glenn Plummer, Carl Lumbly, Vickilyn Reynolds

Following the success of films like Colors and Boyz n the Hood — dozens of studies attempted to capitalize on the issues of gang violence in Los Angeles. 

This included Stephen Milburn Anderson's standout South Central, a generational look at ways to approach the issue. Released from prison following a murder, former gang member O.G. Bobby Johnson (gloriously portrayed by Glenn Plummer) spends time not only attempting to find redemption for himself but for his son. 

Offering that the "civilized alternatives are fast disappearing," this classic foreshadowed with desperate candor a conversation that still needs to be addressed.

Candyman

Directed By: Bernard Rose

Cast: Tony Todd, Kasi Lemmons, Vanessa Estelle Williams

Considered the scariest Black man in modern horror, Tony Todd imbued his role in Candyman with a gravitas that still haunts cinema today. Adapted from Clive Baker's short story, "The Forbidden," which was from his Book of Blood book series. 

In it, the ghost of a murdered Black man who was burned alive by a mob for impregnating a white woman now walks the halls of a notorious Chicago housing project. Todd, as the hook-handed specter, appears whenever people dare to say his name five times in the mirror. 

Two major sequels appeared throughout the decades, but almost 30 years later, Candyman was renewed by a Jordan Peele-produced reboot, directed by Nia DaCosta, and finished at number one at the box office.

White Man Can't Jump

Cast: Wesley Snipes, Rosie Perez, Woody Harrelson

With Jack Harlow set to star in the recently wrapped, Calmatic-directed remake, the original White Man Can't Jump served as one of the best sports films of the decade. 

Starring Wesley Snipes, Rosie Perez, and Woody Harrelson, the Ron Shelton-directed film is a raucous comedy told through the lens of street basketball. However, the best stuff that makes up White Man Can't Jump is still the on-screen banter between Billy (Harrelson), Gloria (Perez), and Sidney Dean (Snipes).

The Bodyguard

Directed By: Mick Jackson

Cast: Whitney Houston, Kevin Costner, Bill Cobbs

Can you name anyone who doesn't know or love The Bodyguard in your life? (Don't worry, we'll wait.) The Mick Jackson-helmed film turned R&B and hood-certified superstar Whitney Houston into an international box office sensation. 

In the film, Houston, ironically as a mega-celebrity, is faced with an obsessive stalker, who must be kept safe by Frank Farmer (Kevin Costner). It became the highest-grossing romantic thriller of 1992, plus became a Grammy Award-winning smash that broke sales records due to Houston's rendition of Dolly Parton's classic ballad, "I Will Always Love You."

Mo' Money

Directed By: Peter Macdonald

Cast: Damon Wayans, Marlon Wayans, Stacey Dash, Joe Santos

As a family, the Wayans were cooking with gas in the early '90s. Damon Wayans and his brother Marlon Wayans branched out of In Living Color to headline Mo' Money in the summer of 1992. Opening at number one, the comedic duo played two con artists who get in over their heads while running a credit card scam. 

The film also marked the screen debut of the late, great Bernie Mac, and proved the Wayans were white-hot when it came to making comedy you could laugh all the way to the bank to. Don't forget after running this one back to play the Jimmy Jam and Terry Lewis-led soundtrack which also went Platinum.

Boomerang

Directed By: Reginald Hudlin

Cast: Eddie Murphy, Halle Berry, David Alan Grier, John Witherspoon, Eartha Kitt

Already one of the most bankable comedic superstars at the time, Eddie Murphy aced this rom-com and is still considered one of the best movies, period. The Reginald Hudlin-directed film centered on Marcus Graham (Murphy), an advertising agency executive who is also a womanizing chauvinist. 

At the time, seeing a character like Murphy's represented the Black exceptionalism era and gave rise to the urban drama explosion in Black cinema. Also, having Antonio "L.A." Reid and Kenneth "Babyface" Edmonds crafting your film's soundtrack can't hurt either. Boomerang still holds up 30 years later, showing why Black pop culture is forever evergreen.

Ural Garrett is a Los Angeles-based entertainment and tech writer documenting the intersections of pop and digital culture. Follow him at @UralG on Twitter.