5 Things We Love About 'Hair Love'
This father-daughter story will surely touch your heart.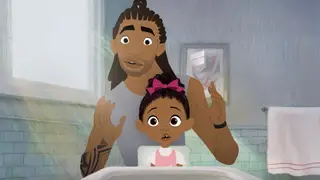 Sony Pictures Animation released a powerful animated short film that centers around the relationship between an African-American father, Stephen, his daughter, Zuri and her hair. 
The sentimental story was born out of seeing a lack of representation in mainstream animated projects, while also promoting hair love amongst young men and women of color. The short was written by Matthew Cherry and was previously shown before Angry Birds 2 in theaters, but is now available to view online.
Here's five things we absolutely adored about the animated short that had our hearts melting.
Diversity In Our Hair Is Celebrated

While Zuri scrolled through hair tutorials on her tablet showcasing the many fabulous do's in a variety of styles, viewers received a first-hand look at all the amazing ways Black women flipped, tied, brushed, braided and twisted their tresses. The visual showcased the many styles that complement every Black woman's mane. 

Just Took A Little Bit Of Work And A Whole Lot Of Love

During a brief flashback of Zuri reminiscing on days of old when her mother styled her hair for her vlog, we saw the importance of the intimate bond created between a mother, daughter and her hair. More than just a style, Zuri's hair became a reflection of her mother's loving care. 

Instead of whisking Zuri off to a beauty salon after a relatable hairdo mishap, father Stephen, whose hair was equally poppin' in the cleanest jet black cornrows, took the initiative in styling his daughter's hair. Voyaging outside of his comfort zone into the land of hair products galore full of gels, creams and sprays, we saw Stephen conquer the fear and stress of styling Zuri's kinky coils.

Hair Love's overall inspiring messages can also be applied to life, not just the struggles of styling your hair. The film encouraged others to keep persevering despite any roadblocks: "Remember, the road ahead might look rough, but you can make the journey with a little bit of work and a whole lot of love!"

In The Words Of India.Arie: 'I Am Not My Hair'

Although a woman's tresses can be her crown of glory, Hair Love taught viewers hair is only an outward extension of one's confidence and self-love. We saw Zuri meet her mother, who experienced hair loss near the end, assumingly from cancer, gifting her a self-drawn picture of her bald, but with a gleaming gold crown. The picture was so powerful her mother removed her headscarf with joy and pride.