World Cup Crowd Chanted 'Equal Pay' After The US Women's Team Victory
And now some are arguing the women should earn more than the men, who have never won a World Cup.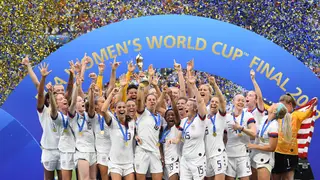 During the Women's World Cup Finals match between the United States and the Netherlands, there were several moments when cheers from the crowd overtook the entire stadium in Lyon, France. However, no moment was quite as memorable as when fans began chanting, "equal pay," just seconds after the U.S. won it all.
As FIFA President Gianni Infantino prepared to hand out the gold medals to the U.S. Women's National Team, the chant "equal pay" echoed throughout the entire Stade de Lyon.
This year, FIFA will award $30 million in prize money to the winners of the Women's World Cup. While that may seem like a hefty purse, it pales in comparison to the $400 million the men received in 2018.

The difference in World Cup earnings also comes as a shock since women's games generated $50.8 million in revenue from 2016 to 2018, while men's matches amassed $49.9 million in revenue during the same time period, reported CNBC.

Additionally, their win over the Netherlands marks the fourth World Cup victory for the U.S. women's team. The U.S. men's team, on the other hand, has never won a World Cup and did not even qualify for last year's tournament.

Even though the U.S. women's team has garnered more attention, they dealt with inequality all the way up to the day of the finals, which was oddly scheduled on the same day as the South and North American confederation men's finals. Before Sunday's match, Rapinoe spoke out against the "ridiculous" scheduling error.

"It's terrible scheduling, don't you guys feel disrespected?" the U.S. co-captain told the press. "It is a terrible idea to put all three on the same day in every way. There are two other finals going on, but this is the World Cup final, 'cancel everything day.' I don't know how that happened, and I heard somewhere they just didn't think about it, which is the problem. When the World Cup is set so far in advance, it's unbelievable. We don't feel the same level of respect that FIFA has for the men or just in general – but good to hear about investment, they should probably double it."

The women's performance on Sunday and over the last 28 years since the Women's World Cup began has people saying they don't need equal pay, they need more pay.