Black Women Take A Break From White People On Costa Rican Healing Retreat And White Twitter Lost Its Mind
The Black-owned travel group has received disgusting racist criticism for their effort to create a safe space.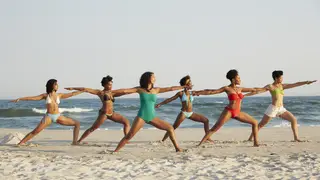 After the election of Donald Trump and subsequent attacks on minorities (i.e.: Charlottesville white supremacy rally), many people of color in the United States have felt alone. In response to this isolation, several Black-owned travel organizations have started specific retreats that are not open to white people. The creation of these safe spaces for Black people has unsurprisingly resulted in many white tears. 
On Feb. 5, Vice News aired an investigative segment on the Women of Color Healing Retreat in Puerto Viejo, Costa Rica. The retreat was created for Black women to have an opportunity to travel to another country and feel safe in their surroundings. In the retreat, the women practice yoga, vegan eating, and speak about the hardships they've recently felt in America. 
After the news special aired, many white people on Twitter bashed the women featured and incited a racist debate on national identity. 
In a clip from the segment, Andrea, who founded the retreat, explains why the program excludes white people

The special resulted in many white people telling the women to go back to Africa if they are unhappy in America

Some even went as far as to call Andrea and the women racists

Despite the overwhelming negativity surrounding the segment, several people defended the women and their right to a safe space

The entire Vice News segment on the Women of Color Healing Retreat can be seen below