Theaters Will Now Search Your Bags for Contraband Candy, Guns
Regal Cinemas reacts to recent shootings.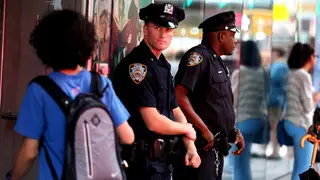 You'll have to leave those airline bottles of liquor and full-sized candy bars at home the next time you go to the movies. In the wake of recent theater shootings, Regal Cinemas, the country's largest theater chain, announced it's beginning to search ticket buyers' bags before letting them in, according to multiple reports. 
The move is, of course, meant to stop guns from getting into multiplexes, but will likely have the unwanted side effect of keeping movie patrons from sneaking in their own concessions (and, let's be honest, alcohol) to save a few bucks rather than pay $9.50 for a small popcorn and soda. What's more, Regal may pass the cost of extra security on to you: Entertainment Weekly reports that there may be a surcharge on ticket prices to fund the measures.
Despite the fact that we'll be paying more than ever to go to the movies, most Americans seem fine with this plan. A recent survey found that roughly half of moviegoers interviewed wanted more security. "Security issues have become a daily part of our lives in America," Regal Cinemas said in a statement. "To ensure the safety of our guests and employees, backpacks and bags of any kind are subject to inspection prior to admission. We acknowledge that this procedure can cause some inconvenience and that it is not without flaws, but hope these are minor in comparison to increased safety."
Small price to pay for our safety or huge bummer for those who just want a little something extra in their Diet Cokes while watching Magic Mike XXL?
BET.com is your No. 1 source for Black celebrity news, photos, exclusive videos and all the latest in the world of hip hop and R&B music. 
Click here to enter the #LookYourSundayBest contest for a chance to win FREE natural hair-care products.

(Photo: Mario Tama/Getty Images)