Former Minneapolis Officer In George Floyd Case Pleads Guilty To State Charge
J. Alexander Keung, who held down Floyd's back, accepted a plea deal to serve 3½ in prison.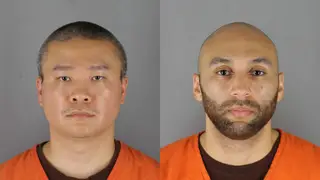 One of the former Minneapolis police officers involved in the murder of George Floyd in May 2020 pleaded guilty to aiding and abetting second-degree manslaughter on Monday (Oct. 24) as jury selection began in the state trial.
The Associated Press reports that J. Alexander Kueng accepted a plea deal to serve 3 ½  years in prison in exchange for dropping a count of aiding and abetting second-degree murder. Keung, a rookie officer at the time, kneeled on Floyd's back for several minutes even though he told the arresting officers that he couldn't breath. He had faced up to 12½  years if found guilty on the charges.
Also on Monday, former Minneapolis officer Tou Thao, who held back bystanders at the scene, waived his right to a jury trial and opted for the judge to issue a verdict based on written arguments from his lawyer and the prosecutor.
On Sept. 21, a state judge sentenced their former colleague Thomas Lane, who held down Floyd's legs, to three years in prison on a state charge of aiding and abetting second-degree manslaughter in Floyd's death. Lane had pleaded guilty to the state charges four months earlier and secured a plea deal.
Lane, Kueng and Thao were convicted in February on federal charges of willfully violating Floyd's civil rights. Lane received a 2½ -year sentence in federal prison. In July, a judge sentenced Kueng to 36 months in prison and Thao to 42 months in prison on the federal charges related to Floyd's death.
The three former Minneapolis police officers were at the scene when ex-cop Derek Chauvin was seen on video pressing his knee on the handcuffed Black man's neck for more than nine minutes.