People Think Desiigner and Lil Kim Are Dating
"So much fun when we're together."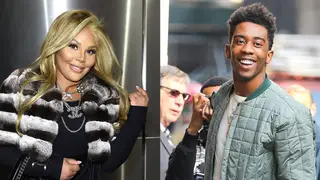 Lil Kim hasn't been keeping her feelings about Desiigner private by any means following this past weekend's BET Awards.
Her Instagram has been showing the 19-year-old rapper so much love that rumors are now swirling that the two may be more than friends. 
Considering Lil Kim is more than 20 years older than the new star, this may just be the internet trying to get a rise out of everyone while dissecting her affectionate captions.
"He's a real one," she wrote on one of the photos of the pair enjoying each other's company after the BET Awards, taking the opportunity to promote his new mixtape.
The two have already worked together, with Kim getting the green light to be featured on an official remix of Desiigner's breakout hit, "Panda," alongside fellow rapper Mr. Papers.
Considering Lil Kim's social media posts praising the rapper two decades her junior may be excessive, it's not all that surprising everyone's starting to assume the two are dating.
Check out her posts that have everyone talking below.