'Tis the Season to Stream Black: BET+ Festive Holiday Lineup
From Tamar Braxton to Debbie Allen and Kandi Burruss, we've got you covered this holiday season.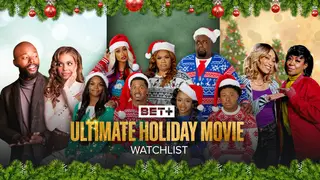 The holiday season is upon us, and what better way to celebrate than with a collection of heartwarming, action-packed, and hilarious Christmas films and specials?

BET+ has once again delivered a fantastic lineup that caters to diverse tastes and promises to fill your days with holiday cheer. From romantic comedies to action thrillers to family-friendly options, BET+ spreads the Christmas spirit with a slew of authentic Black programming highlighted by talented cast and crews.
This year's festive offerings on BET+ will make you think of your own family during the holidays. Here's a watchlist of the exciting films and specials available for hours and hours of entertainment now and throughout December.
"A Wesley Christmas Wedding"–WATCH NOW

As the Wesley family comes together for a festive Christmas wedding, they find themselves navigating the chaos orchestrated by the mother of the bride, aptly nicknamed "Momzilla." Amidst the challenges, eccentric ex-partners, and unexpected family arrivals, the culmination of these events brings the much-anticipated moment of exchanging vows.

Directed by Patricia Cuffie-Jones, the cast includes Patricia Cuffie-Jones, TV legends Jasmine Guy and Terrence "TC" Carson.

"Heart for the Holidays"–WATCH NOW

In an unexpected turn of events, Rachel, a determined businesswoman, lands in a small town for a crucial heart transplant. Fate intertwines her journey with that of Amy, another recipient of organs from the same donor. As Rachel immerses herself in the local community, she discovers an unforeseen romance blossoming with Scott, Amy's brother. David Mitch Parks is directing.

"Christmas Angel"–WATCH NOW

Facing a crossroads, Angel St. James, an R&B superstar in turmoil, confronts her innermost emotions when her car malfunctions on a deserted road. Opting for an unexpected detour, she shares Christmas with a stranger and his 8-year-old daughter. In this unplanned journey, Angel uncovers the joy of Christmas, the warmth of love, and the sense of belonging to a family she has always yearned for.

The all-star lineup includes Romeo Miller, Elise Neal and Tamar Braxton. LazRael Lison not only wrote the film but directed it as well.

"Sworn Justice: Taken Before Christmas" –WATCH NOW

On Christmas Eve, a detective and her D.A. boyfriend are both kidnapped. With their electronics locked and controlled by a menacing voice, they must follow orders to ensure their survival in a snowy night of cat-and-mouse thrills. Vivica A. Fox and Melyssa Ford star, with Nicole G. Leier directing.

"The Ms. Pat Show" Holiday Episode "Father Christmas" (November 23)

Pat goes above and beyond to give Terry the perfect Christmas by trying to find his real father. When her search hits a dead end, she and Denise embark on a wild plan involving a mall Santa.

Directed by the legendary Debbie Allen, all of your favorites are in this episode: Patricia "Ms. Pat" Williams, J. Bernard Calloway, Tami Roman, Theodore Barnes, Briyana Guadalupe, Vince Swann and Brittany Inge.

"So Fly Christmas" (November 23)

After being stood up at the altar on Christmas Eve, Wyvetta decides to renounce love, and things get complicated when her best friend, Dione, falls for a mild-mannered record store owner. This is a must see on Thanksgiving day!

The cast is Hollywood gold with Tichina Arnold, Tami Roman, Jackée Harry and Tommy Davidson. Terri J. Vaughn is the director.

"A Royal Christmas Surprise" (November 30)

An African Christmas meets an African-American Christmas when Riley plans the perfect holiday for her fiancé, Mandla. However, a surprise from Mandla threatens to jeopardize her plans with her future husband. Beautie Masvaur directs this Christmas gem.

"The Christmas Ringer" (November 30)

After her career takes a hit, the reigning Princess of Christmas and defunct R&B singer retreats to her family's home for the holidays. There, her mother convinces her to direct the family's church choir to compete in a Christmas Choir Competition.

R&B vocal powerhouses star in this film, Trenyce ("American Idol"), Kelly Price, Chrisette Michelle, and Tamika Scott. Patricia Cuffie Jones is the director.

"Never Alone for Christmas" (December 7)

When Lauren calls off her wedding to Miles, both end up at the same Cajun Christmas retreat for singles with new companions, unbeknownst to each other. Directed and written by Kenny Young, the film includes, Mignon Von, Allen Maldonado and Grammy winner Macy Gray.

"Christmas Rescue" (December 14)

A man kidnaps his love from her holiday-themed wedding in a desperate last attempt to win her back. The cast includes Robin Givens and Mario Van Peebles. Billy Givens-Jensen wrote and directed.

"Favorite Son Christmas" (December 14)

After their father's passing, Blain takes over the Graceway Church as pastor, but their finances are in dire straits. First Lady Rita suggests a "SO GIFTED" reunion to save the day, reuniting the brothers and their wives for a successful Christmas reunion.

The film is directed by the legendary Robin Givens and includes stellar performances by Serayah, Tank and MC Lyte.

"Whatever It Takes" (December 21)

It's Thanksgiving weekend, snow is falling, Christmas is coming, and promises of a new year set the stage. Five women navigate careers, life, and friendship while bonding over their complicated love lives, leading to both wishes and losses during the holidays. Another stellar cast with Tami Roman, Kandi Burruss, and AJ Johnson. Taliah Breon is the director.