Black Women Scientists Share Science Possibilities with Kids Through Nonprofit
YO-STEM is a Tennessee charity run by a pair of Black women who want youth to see themselves as science innovators.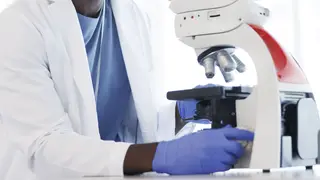 In 2016, Clarice Phelps became the first Black woman to be credited with the discovery of an element when she worked on the discovery of No. 117, tennessine. She is hoping that the attention she is receiving will show Black girls that they, too, have a place in the scientific community.
To drive home the message, Phelps and her coworker Candice Halbert from Oak Ridge National Laboratory in Tennessee launched a charity seven years ago to provide access to science, technology, engineering, and mathematics education for youngsters in the Knoxville region called YO-STEM. PEOPLE Magazine profiled the Black women in white coats, and explained what they do when not in the lab.
'Being a Black woman in science is being seen and unseen at the same time' Phelps, 41, told PEOPLE. (Just around 2% of scientists and engineers are Black women, according to the National Science Foundation.)
Halbert, who is 42 years old, chimed in: "Exposing youth to more diverse individuals allows them to pursue these different careers. It's a two-way street: We're preparing these students so they can take our place — to hire them and watch them grow."
They remember when schoolchildren would draw an older white man when asked to illustrate a scientist. And now, Phelps says, "middle schoolers are drawing more women. It's a step."
Both ladies recall key moments in their early years when influential educators showed them the possibilities in STEM fields. When Halbert was younger, like most others, she thought that people in the science field worked in hospitals.
Both Halbert and Phelps are mothers pursuing doctoral degrees in STEM fields, and they intend to eventually bring YO-STEM to children in other locations across the United States.
According to Phelps, "I hope by the time our students get to where Candice and I are today, they won't have to go through what we've been through because those glass ceilings will have been broken and the pieces swept away."