#OnTheVerge: yvngxchris Is A Major Voice Of His Generation And Will Continue To Use Music As His Medium
The Virginia rapper details his XXXTentacion tribute 'Serenity (Letter To X)', why he held out on signing a major label deal, and more.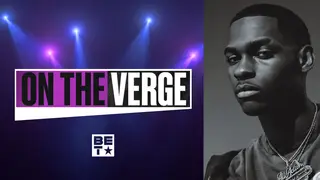 yvngxchris may be young, but he's already wise beyond his years.
Early on, the Virginia-born rapper was inspired by some of his native state's greats like Pharrell, Pusha T and Chris Brown, but he also considers some of his contemporaries legendary as well.
On his song "Serenity (Letter To X)", yvngxchris (pronounced Young Chris), pays tribute to the late Miami rapper XXXTentacion, but the cut goes way deeper than a testimonial to a fallen coeval artist. Rather, it raises the question so many don't have the answer to why are so many rappers perishing, especially when they've inspired so many.
On the track, yvngxchris references fallen artists like Nipsey Hussle, Pop Smoke and Juice WRLD, with the latter, he explains, having a demonstrably tragic effect on those inspired by him.
"When he died, n****s cried, I can't fake that s**t / And the impact was heavy, that's takin' a million hearts and breakin' s**t," yvngxchris raps. "These n****s got me tryna say some s**t, they inspire kids to try to make some s**t."
During a recent interview with BET.com, yvngxchris explains why he felt he needed to put his thoughts in musical form, and how much more that means than simply a RIP post on social media.
"When you listen to a song, you feel it more because there's frequencies, waves, all that, and it's a little bit more spiritual," the 18-year-old Portsmouth native says. "It's a little bit more technical. [It's] also just because of [XXXTentacion] too. He's a big inspiration to me. I just had to give it to him, you know. He inspired me and tons of other people along with Nipsey Hussle, Juice WRLD, Lil Peep, all the greats that have passed."
The track is off of yvngxchris' August 2022-released project Virality, which was a debut of sorts for him. It's a collection of songs recorded over the past few years with the purpose of showcasing his lyrical acumen, but also, relaying to his fans that there's much more potential he's set to unleash in the coming years.
"I just wanted to get the point across that every song on this tape is gonna go crazy, like stupid, crazy. These [songs] were made a year ago, this is all yvngxchris," he explains. "I have way more in store and I'm far off of what my songs were like when I was 16 or 17. I'm [now] 18 and I have a different mindset. I still have more time to grow and as I grow the music's gonna grow."
When it comes to actually releasing his music in a proper way, yvngxchris signed a major deal with Columbia Records in 2021, but he says that didn't come before turning down numerous offers from other labels. For him, it was all about getting himself prepared in all facets before the bag grab.
"I wasn't ready. A lot of artists sign s**t and they're just not ready," he recalls. "A label will put a lot of money in front of you, and you just like, 'I gotta take it.' I almost signed a deal before like, a crappy deal. I'm not gonna get too much into it, but yeah, a lot of money just gets thrown in front of these artists and they're like, 'Oh, s**t, I gotta take this opportunity.' But as you build your catalog, the numbers are only gonna get bigger."
Regardless, yvngxchris explains that being a successful rapper is just the tipping point for what he looks to accomplish, and if his relatively short stint in the music business is any indication, he'll be able to spread his wings into the other ventures of his choosing.
"I want to show people that it's low-key bigger than music. Right now I do see myself as a rapper, but in the future, I aspire to be an entertainer," he says. "I don't want to just be a rapper stuck in a box. I want to be a rapper, actor, and entrepreneur. I want to do everything. It's bigger than this s**t. You can't just be in your box. You can f**k around and hop into a movie, go into fashion – like I do want to walk shows and all that. I have big aspirations that I'm willing to work towards."
Preeminent Visual:
Latest Release:
Catch up on all #OnTheVerge features here.