#OnTheVerge: Billy B Wants Her Longevity In Music To Extend Beyond Her Rapping Career
The Brooklyn native details her 'Don't Play With It' collaboration with Lola Brooke, The Diplomats' influence on her style, and more.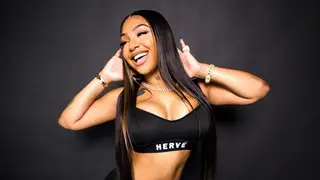 With each passing year, fresh sounds and artists bubble up from the underground, later hitting the ears of music fans looking for that newest flair. But as the days come and go, so do certain styles and the creators of them for one reason or another.
That new wave you thought was IT just six months ago may be old news by now. It's the reality of the music business these days, and in the age of social media, there's so much more to pay attention to. That's where #OnTheVerge comes in. Each week, BET.com will feature artists on the come-up, full of promise, and on the verge of making it into the headphones and through the speakers of a much larger fanbase.
In this week's edition, we spoke with Brooklyn's own Billy B who has a lot to look forward to in 2023. The East New York spitter has been one of her borough's most promising and recognizable artists, but she didn't break onto the national scene until her feature on Lola Brooke's 2022 smash hit "Don't Play With It". The song is undeniably BK – plush with motorcycles, performance shots taken outside and inside of bodegas, and the entire block fully participating.
In December, BET spoke with Brooke about her breakout single and visual, which she said was Brooklyn at its finest. She also noted that the collaboration with Billy was a long-time coming.
"I always made sure that I kept my eye on Billy because I felt like she was someone like me. I never really got to meet another female artist that I can relate to," Brooke noted at the time. "So I was looking for her because she was missing and I know how it is as a female artist – [you] get discouraged, it's a lot of opinions going around. I just felt something. This girl was having a baby.
"I sent her 'Don't Play With It' to get on it and it's crazy because I didn't really think anything of it," she added. "I just wanted us to work and wanted her to feel good and know that she's not in this by herself."
During a recent interview with BET.com, Billy B confirmed that she gave birth just months prior to the song picking up virally and that she too believed it was magic the first time she played the beat in the studio.
"Around when she sent me the song I had just moved back to New York, COVID was wildin', and I didn't really know what to do sound-wise," she explains. "So I was like, f**k it, I'm just gonna do a whole bunch of features. I was in L.A. for probably like two years before that. So I'm like, I gotta get back in touch with all the New York artists. I always would be in tune with them through the internet, but I wanted to get back home and really work with everybody. So that's what I did."
Concerning the music video for the viral track, both Billy B and Lola Brooke noted that it didn't exactly follow the treatment, but definitely turned out as organically as they hoped.
"The video wasn't even what we were planning to do, but that day was just like, alright, we here, let's just do something," Billy recalls. "So we shot our single scenes first and then by the time we ended up finishing shooting our single scenes, the whole hood was out. It seemed like every time I put my head down and put my head back up, it was more and more people. We were drinking. It was just going mad fast, Lola was drunk. I'm like we're gonna get a fine, the cops came out but they let us ride, the bikes were out, the vibe was just so crazy.
"I think that's why it picked up the way it did because you could feel the energy through the visuals," she adds. "You be like, 'Damn!' Everybody that was watching wanted to come to New York."
Growing up in East New York's Cypress Hills projects, Billy says that her childhood was full of fun and that she didn't realize her family's shaky financial situation until she got older. It was also around that time that she focused on her love of creating music, inspired heavily from artists from another neighborhood and borough entirely.
"Dipset was a big inspiration, Jadakiss. All my musical influences came from my mom and my brothers. My mom was a heavy R&B fan – Mary J. Blige, Angie Stone, India.Arie, Sunshine Anderson, and then my brothers were like, rap heavy, so that was blasting all day. So it was just like taking it all in," she recalls. "My first remix was over 'Cookies 'N Apple Juice' by Cam'ron and that's where I started off."
Brooklyn is currently in the midst of a resurgence among younger hip-hop artists, including Billy B. She says the pivot to drill music was a major factor in her borough, which she saw bubbling up during its infancy years ago.
"When GS9 came out I was living on their block – on [E. 96th St. and Clarkson Ave] – and I was rapping but I wasn't telling them that I was rapping. I would see them outside and they were heavily influenced by like Chicago drill. They used to blast it on the block," she describes. "I feel like Bobby [Shmurda] and them, they embodied Chicago drill, and that's where Brooklyn drill kind of started. The whole Brooklyn scene, Fivio [Foreign] – all of them – like we used to all be performing together, going crazy. That Brooklyn drill scene was crazy."
Regardless if it's her own music that carries her to new heights, Billy B says that she wants to be in the business for a long time; in whatever capacity she can excel most in.
"Music really is my passion and I've come to learn that over the years. I've quit probably like 500,000 times in my head but I never could bring myself to put it out to the world that I'm done with music," she explains. "So that's how I knew I really love making music. I'll go through certain things and music is kind of the way that I express myself.
"When I was younger, I was so shy that when I would talk to boys on the phone, I would never like talk. I would sing songs to what I was trying to say to them," Billy B adds. "I never knew I did that before. I love music and I want to be a staple in the music industry. I want to create timeless music, but I also want to bring other artists on and sign artists or just build a label. I don't know exactly what I want to do, but I want to be in this industry forever and make an empire out of it."
Preeminent Visual:
Latest Release: