'Cleared My Soul': Offset On BET Awards Performance With Quavo
The two remaining members of The Migos reunited for a stunning tribute performance.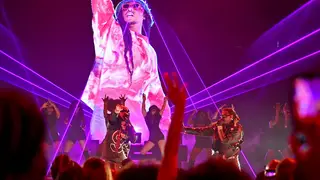 It was the performance of the night by some standards. Migos rappers Quavo and Offset took to the stage during the 2023 BET Awards to salute their fallen comrade, Takeoff who was killed in a shooting on November 1, 2022.
The performance came two years after the release of their final album as a group in 2021 and just months after they allegedly had an altercation at the 2023 Grammy Awards--making the BET Awards performance that much more surprising.
"I love all my fans. I love y'all. We did a BET performance, man. It was iconic, man," Offset, 31, said during a recent Instagram Live, according to PEOPLE. "It cleared my soul. Me and my brother, Quay, man, we put that together within, like, 16 hours, like, 15 hours... We do that 'cause we're some real stars."
He added: "We do this music. We the greatest group to ever touch the mic. RIP my brother, Take. We did it for my brother, Take. Me and Quay stood tall, brother to brother. And I appreciate everybody for supporting. It was a movie, it was a vibe. We needed that for the culture."
The father of five added that his former groupmate, Quavo--who is Takeoff's uncle, put extensive time and consideration into all elements of the performance.
"It's always gonna be cinematic," he said. "Thank God for that moment. We did it for Take... And you know, when you put the three heads together, it's always gon' be cinematic. It's always gon' be the truth. It's always gon' be Godly."
"Thank God for that moment," he continued. "And like I said, RIP to Take. Y'all know how we coming about my brother. And we did it for Take. That's our legacy. Migos forever. The greatest group to ever do it."
With a surprise performance of their breakthrough single "Bad and Boujee" as a storm of beautiful female dancers flooded the BET Awards stage. A photo of the late Takeoff shined bright on a screen behind them. The appearance marked Migos' first musical performance since Takeoff's passing last November 2022. Although the rapper is no longer with us, his presence was highly felt.